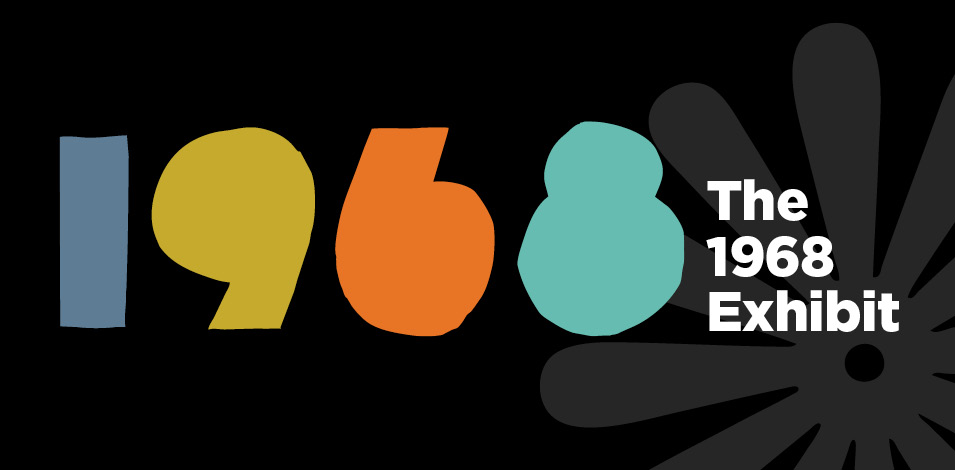 December 23, 2017—January 21, 2019
1968: There has never been another year like it, before or since. From the darkest hours to the incredible highs, see the year come alive in this mind-blowing exhibit.
It's been 50 years since 1968: It began with the Tet Offensive, the turning point of the Vietnam War, and never let up. The year saw the assassinations of Rev. Dr. Martin Luther King Jr. and Robert F. Kennedy; protests, peace signs, love-ins, psychedelic rock; Black Power; the struggle for women's rights; the violent conflicts at the Democratic National Convention in Chicago; and the first full-color images of Earth from outer space beamed by Apollo 8.
The experiences of the year fueled a persistent, if often contradictory, sense of identity for the people who were there. The unsettled nature of the debate about damage done or victories won makes this subject so compelling and urgent.
This immersive exhibit transports visitors back to 1968. Organized chronologically, the experience begins in January with a Vietnam-era Huey helicopter that has "landed" in an American living room, and concludes in December with a replica Apollo 8 Command Module and a display of Apollo 8's iconic "Earthrise" image with audio from the mission's astronauts.
The sights and sounds of this media-saturated age fill the exhibit, and stories from the people who were there are shared throughout. Interactive "lounges" focus on music, movies and television, and feature iconic artifacts including a suede vest worn by Jimi Hendrix, a Beatles "Yellow Submarine" lunch box, and a sweater and shoes worn by Fred Rogers on the television show "Mister Rogers' Neighborhood."
You'll also see:
The torch from the 1968 Olympics
Oral histories from civil rights workers and Vietnam vets
Presidential campaign artifacts
Landmark TV, film, and news clips
Vintage fashions, household items, and toys
The 1968 Exhibit helps us understand where we have come from and where we are today — and how the events of this one year have shaped the politics and people of the last half-century.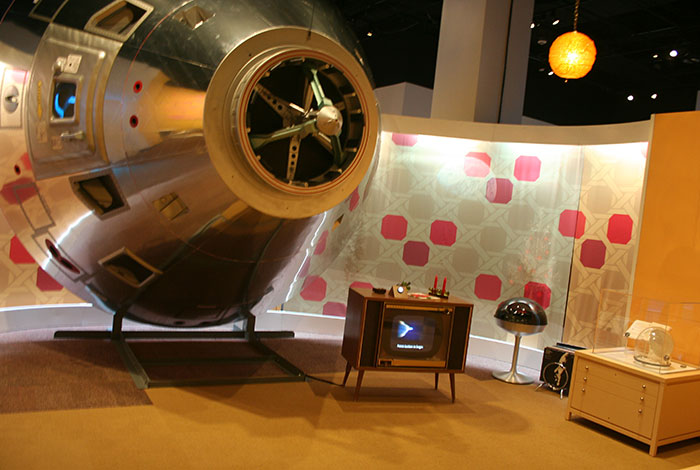 A replica Apollo 8 Command Module.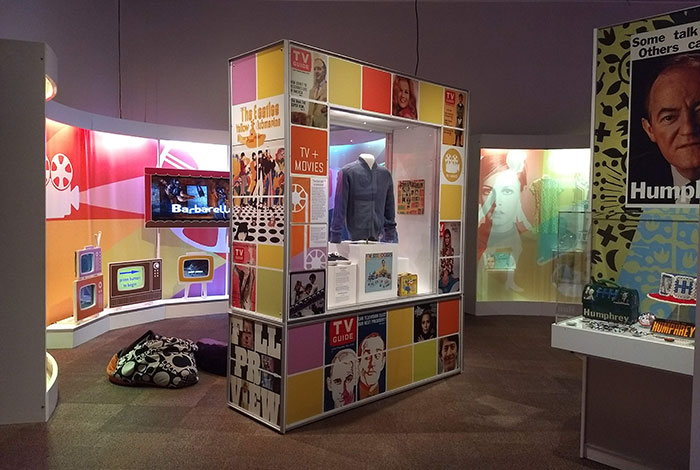 Sweater and shoes worn by Fred Rogers on the television show "Mister Rogers' Neighborhood."
Upcoming 1968 Exhibit events
#1968Exhibit
Use your favorite social media channel to share your interest in the #1968Exhibit with friends, family, and colleagues. It just might show up here as well!
The 1968 Exhibit is made possible in part by the Legacy Amendment through the vote of Minnesotans on Nov. 4, 2008. Additional support comes from major grants, including a Chairman's Special Award  from the National Endowment for the Humanities (NEH) and the Institute of Museum and Library Services. The 1968 Exhibit has been designated a "We the People" project by the NEH. Special thanks to General Mills and the MLK Holiday Breakfast for their major sponsorship of this exhibit.
Media and Technology Sponsor