For immediate release
Explore New Stories at Historic Fort Snelling at Two Media Events This Summer
James Beard award-winning food scholar and national traveling exhibit featured alongside new daily program
Updated July 19, 2018
This summer staff at Historic Fort Snelling have kicked off an array of new and expanded programming, exploring 10,000 years of history at the confluence of the Minnesota and Mississippi rivers. 
Recently, the legislature awarded MNHS $15 million, half of the $30 million needed to complete the full revitalization project planned for the site. This summer MNHS is moving forward with some program changes and will return to the legislature for the remaining support. Check out a press kit for more details on revamped programming in summer 2018. 
On several Saturdays this summer, public special events will dive deeply into some of these lesser-known stories at Historic Fort Snelling, including Japanese-American and African-American history. 
Media are invited to preview two of these unique opportunities in June and July.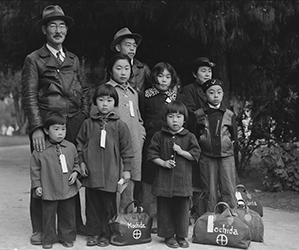 Friday, June 29, 10 a.m.-Noon: Media Preview of "Courage and Compassion: Our Shared Story of the Japanese American World War II Experience" Exhibit    
Get an early glimpse of this national traveling exhibit from Go For Broke Education Center, opening June 30, including local content developed by the Twin Cities Japanese American Citizens League. Learn how Japanese-American soldiers trained at the Military Intelligence Service Language School (MISLS) at Fort Snelling during World War II, and how Minnesotans responded to their Japanese-American neighbors being put under house arrest after Pearl Harbor. 

Two members of the local Japanese-American community will be available for interviews: Edwin "Bud" Nakasone, a WWII veteran who experienced the bombing of Pearl Harbor and trained at the MISLS; and Sally Sudo, who was imprisoned at Minidoka concentration camp in Idaho and moved to Minnesota after her brother's time at the MISLS. 

Plus, enjoy a media tour of new daily experiences at Historic Fort Snelling, including a recreated World War II-era classroom where MISLS students trained. Coffee, juice and pastries will be provided.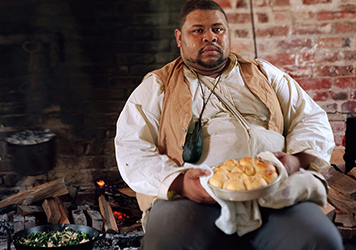 Friday, July 27, 9-11 a.m.: Media Event with Michael Twitty, Author, Culinary Historian and James Beard Award Winner 
Visit with Michael Twitty, author of "The Cooking Gene," who recently won the 2018 James Beard Foundation's Book of the Year Award, and learn about African-American culinary history from slavery to freedom. Light refreshments will be provided. 

All day on Saturday, July 28, Twitty will conduct historic cooking demonstrations for the public in the commandant's house kitchen, where many enslaved people worked prior to the Civil War.
​​​
See the full schedule of upcoming special Saturday events: 
Saturday, June 30: "Courage and Compassion: Our Shared Story of the Japanese American World War II Experience" Exhibit Opens
Saturday, July 14: "The Registry" Film Screening & Discussion - View a documentary about the Military Intelligence Service Language School. 
Saturday, July 21: Veterans' Storytelling - Hear the stories of veterans in their own words. 
Saturday, July 28: Historic Foodways with Michael Twitty
Saturday, Aug. 4: The Slave Dwelling Project with Joseph McGill - Historian McGill shares his efforts to identify, preserve and share the stories of buildings that enslaved people called home. 
Saturday, Aug. 11: "Beyond the Barbed Wire" Film Screening & Discussion - View a film documenting stories of how Japanese-Americans came to Minnesota around World War II.
Saturday, Aug. 18 & Sunday, Aug. 19: World War I Centennial Weekend - Commemorate the 100th anniversary of the end of World War I and learn about Minnesota's role in the war.
Saturday, Aug. 25: Harriet Scott Performance - Playwright and actor Tisidra Jones brings the experiences of Harriet Scott to life. 
Details of some of these special events are still in the works. Check the MNHS web calendar for the latest updates. 
About Historic Fort Snelling 
Historic Fort Snelling, Minnesota's first National Historic Landmark, resides on Dakota homeland known as Bdote. The restored 1820s fort and visitor center present the stories of those who crossed paths here—from the Dakota, Ojibwe and enslaved people, to fur traders, immigrants and soldiers. The site is located at state Highways 5 and 55 overlooking the Mississippi and Minnesota rivers. For more information, visit www.mnhs.org/fortsnelling.
The Minnesota Historical Society is a nonprofit educational and cultural institution established in 1849. MNHS collects, preserves and tells the story of Minnesota's past through museum exhibits, libraries and collections, historic sites, educational programs and book publishing. Using the power of history to transform lives, MNHS preserves our past, shares our state's stories and connects people with history.
The Minnesota Historical Society is supported in part by its Premier Partners: Xcel Energy and Explore Minnesota Tourism.