For immediate release
New Mondale Website Provides Easy Access to Papers
Just launched, a new website provides a public portal to the Walter F. Mondale Papers held in the Society collections. The website provides a fully articulated finding aid to the 1,500 cubic feet of Mondale Papers; contextualizes Mondale's career in a brief essay; provides easy access to thousands of digitized artifacts, photographs, and documents from the Mondale collection; and hosts an extensive interview with Mondale. Future content will include essays and podcasts featuring prominent Mondale scholars.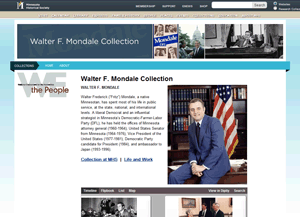 Pat Gaarder, deputy director of programs said, "We are pleased to be able to share the history of this public figure in an easy-to-use way. Mondale speaks to Minnesota's history as well as the nation's history and we are proud that he has entrusted his papers to our care."
The extensive Mondale Papers document his entire career, from his terms as Minnesota's attorney general (1960-1964), through his senatorial career (1964-1976), his years as vice president (1977-1980), his 1984 presidential campaign, his brief ambassadorial career and subsequent public service.
The Society was awarded a National Endowment for the Humanities grant to process and describe the Walter Mondale Papers and to develop a Mondale web page.
The Minnesota Historical Society is a non-profit educational and cultural institution established in 1849. The Society collects, preserves and tells the story of Minnesota's past through museum exhibits, libraries and collections, historic sites, educational programs and book publishing. Using the power of history to transform lives, the Society preserves our past, shares our state's stories and connects people with history.
The Minnesota Historical Society is supported in part by its Premier Partners: Xcel Energy and Explore Minnesota Tourism.