For immediate release
Maple Grove and St. Paul Students Earn Scholarship from Minnesota Historical Society
Graduating seniors Megan Goeke from Maple Grove High School and Sergio Portesan from Como Park High School have earned a 2012 Minnesota Historical Society Student Volunteer Scholarship.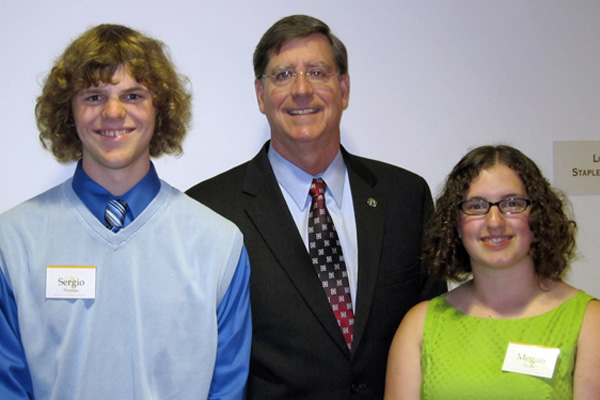 Megan Goeke became a Society volunteer in June 2009, contributing more than 200 hours of volunteer service. She has helped with a number of special events including being the pianist at the Alexander Ramsey House during the holidays. Megan plans to attend the University of Minnesota-Twin cities and become a history teacher.
Sergio Portesan began volunteering with the Society in June 2010, and has currently recorded more than 140 hours of service. He assisted in collections, was an intern in volunteer services, served on the Teen Advisory Council and helped with History Day. Sergio will be attending Colorado College this fall and will pursue a liberal arts degree.
Each year the Society recognizes the volunteer contributions made by high school seniors with a $1,000 scholarship. The goal of the scholarship is to encourage young people to become involved in history and to recognize the benefits of volunteerism. It is one of the many ways the Society is committed to students and education.
The Minnesota Historical Society is a non-profit educational and cultural institution established in 1849. The Society collects, preserves and tells the story of Minnesota's past through museum exhibits, libraries and collections, historic sites, educational programs and book publishing. Using the power of history to transform lives, the Society preserves our past, shares our state's stories and connects people with history.
The Minnesota Historical Society is supported in part by its Premier Partners: Excel Energy and Explore Minnesota Tourism.