For immediate release
Minnesota Students Take Top Honors at National History Day Competition in Washington D.C.
Students from the Twin Cities, Rochester, Chatfield and Grand Rapids area earned awards.
Research about the Civil Rights Movement, the political revolutions of 19th century Japan, and the development of anesthesia helped three Minnesota entries be selected as national champions at the 2012 National History Day competition. In addition, one student earned a full scholarship to Case Western Reserve University, one of only three scholarships available.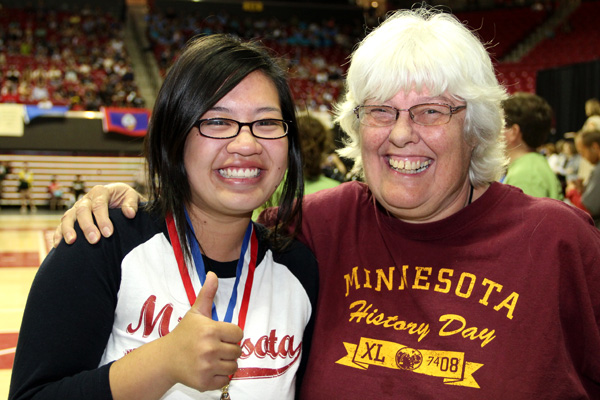 (Jennifer Mailee Lor, with teacher Susanne Hollingsworth)
Awards were announced today, Thursday, June 14 in a ceremony at the University of Maryland. In all, 18 entries from Minnesota won national honors where 63 Minnesota students joined almost 2,800 other students from across the nation in the weeklong competition.
The students, representing grades six through 12, from schools around the state, presented exhibits, papers, documentaries, performances and websites that showed off months of research into topics based on the 2012 National History Day theme: "Revolution, Reaction and Reform in History." 
The top three national finishers in each category earn monetary awards. First place receives $1,000, second place receives $500 and third place receives $250. National History Day also recognizes one outstanding state entry in each division, junior and senior, with a medal.
Scholarship winner:
Molly Nemer
Henry Sibley High School, West St. Paul
Senior individual documentary, "Opening Levittown: Moving the First Black Family into America's Second Suburb"
Nemer earned a full academic scholarship to Case Western Reserve University, one of three scholarships available and the only one that provides for a four year tuition.
Medal winners:
Jennifer Mailee Lor
Open World Learning Community, St. Paul
First, senior individual documentary, "The Highlander Folk School"
This video explained how the school was an influential training ground for Civil Rights leaders like Rosa Parks. Lor's entry also received one of four $5,000 HISTORY™ Awards.

Grace Gardner
Cyber Village Academy, St. Paul
First, junior individual exhibit, "Meiji Restoration"

Cassidy Yueh, Melanie Blazar, Halcyon Brown
Breck School, Minneapolis
First, junior group exhibit, "Power Over Pain: The Anesthetic Revolution"

Anna Kleven, Nora Sylvestre, Natalie Tufvesson
Seward Montessori, Minneapolis
Second, junior group documentary, "The Romanian Revolution"

Austyn Kaye Otten, Kit Piepkorn, Hope Piepkorn, Tomas Piepkorn
CHOF School, St. Paul
Second, junior group performance, "Munsingwear: Revolutionizing your Unmentionables"

Alexis Ihrig, Anisa Carlson
Lake Harriet Community School, Minneapolis
Second, junior group website, "Operation Ajax: The Fall of Democracy, the Rise of Radical Islam."

Tasha Holtman
South High School in Minneapolis
Third, research paper, "'Nobody's Business'?: American Child Protection Becomes a Public Responsibility"

Ana Schaff
DeLaSalle High School, Minneapolis
Third, senior individual website, "The Freedom Rides of 1961."
Other top 12 finishers from Minnesota:
Maggie Schmidt
Homeschool, West St. Paul
Fourth, senior individual performance
"Going Ballistic: The Case that Revolutionized the American Courtroom"

Samuel Gearou, Joshua Gearou
Elk River High School, Elk River
Fifth, senior group exhibit
"New York Newsboys Strike of 1899"
*This presentation also received the outstanding state entry award for the senior division.

Cara Meyer, Amelia Heusinkveld
Robbinsdale Middle School, Robbinsdale
Sixth, junior group performance
"The Revolution of Silent Films to Talkies: How the Movie The Jazz Singer Reformed the Film Industry"
*This presentation also received the outstanding state entry award for the junior division.

Abigail Norling-Ruggles
South High School, Minneapolis
Seventh, senior paper
"Radio Revolution: Communication Warfare in World War I"

Caitlin Hansen
Chatfield High School, Chatfield
Seventh, senior individual exhibit
"The Flushing Remanstrance"

Kellie Frost
Friedell Middle School, Rochester
Tenth, junior paper
"The Estonian Singing Revolution: A Peaceful Reaction to a Violent History"

Hannah Myers
Northland Community School, Remer
Tenth, senior individual performance
"Martin Luther and the Reformation of the Catholic Church"

Becky Norling-Ruggles, Frances Matejcek, Grace Palmer
South High School, Minneapolis
Eleventh, senior group documentary
"Cold War in a Hot Place: CIA Intervention in Guatemala"

Bridget Farrell, Joe Vitt, Morgan Lieske, Neal Billig
DeLaSalle High School, Minneapolis
Twelfth, senior group website
"Armenian Genocide: "The Extermination of a Race" http://36226370.nhd.weebly.com

About History Day
For more information see the National History Day in Minnesota page on the Minnesota Historical Society's website at http://education.mnhs.org/historyday.
The History Day in Minnesota program is co-sponsored by the Minnesota Historical Society and the University of Minnesota.
In Minnesota, 30,000 students from over 250 schools participate in the program each year.
The Minnesota Historical Society is a non-profit educational and cultural institution established in 1849. The Society collects, preserves and tells the story of Minnesota's past through museum exhibits, libraries and collections, historic sites, educational programs and book publishing. Using the power of history to transform lives, the Society preserves our past, shares our state's stories and connects people with history.
The Minnesota Historical Society is supported in part by its Premier Partners: Xcel Energy and Explore Minnesota Tourism.