For immediate release
Eagan High School Student Earns Scholarship from Minnesota Historical Society
Trevor Gersch, a graduating senior from Eagan High School, has earned the 2011 Minnesota Historical Society Student Volunteer Scholarship.
Each year the Society recognizes the volunteer contributions made by high school seniors with a $1,000 scholarship. Although a small program, it is important because it highlights the Society's commitment to students and education while encouraging young people to become involved in history and to recognize the benefits of volunteerism.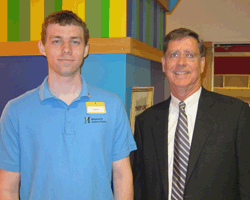 (Trevor Gersch with Society Director and CEO Stephen Elliott.)
Trevor Gersch became an active volunteer in May 2008 and has contributed more than 200 hours of volunteer service. He has assisted visitors in the History Center exhibit galleries, helped with special events at Historic Fort Snelling, the State Capital and the History Center, and volunteered with the development department in membership sales, fundraising and events. 
Gersch wrote in his application essay about working in the Minnesota's Greatest Generation exhibit "I often would be volunteering with an older volunteer and they had unique stories to tell from their parents who were in the war or from their own life. I generally don't have many opportunities to interact with older adults and this exhibit taught me how hearing history 'first hand' highlights aspects that are not found in books or by seeing objects. It gave the exhibits' artifacts a deeper and more multi-faceted context; I could talk to someone who actually used the objects like those on display. It was a great experience for me."
Trevor will be attending the University of St. Thomas in the fall and plans to major in accounting with a minor in history. Following college he plans to attend law school.
The Minnesota Historical Society is supported in part by its Premier Partners: Xcel Energy and Explore Minnesota Tourism.
The Minnesota Historical Society is a non-profit educational and cultural institution established in 1849. Its essence is to illuminate the past as a way to shed light on the future. The Society collects, preserves and tells the story of Minnesota's past through museum exhibits, libraries and collections, historic sites, educational programs and book publishing.