For immediate release
Collection of Revolutionary Americana to be Sold at Auction, to Benefit Minnesota Historical Society
Items include letters from George Washington, Patrick Henry, Samuel Adams, Benedict Arnold and others.
On April 17, the Allyn K. Ford manuscript and autograph collection belonging to the Minnesota Historical Society will go to auction at the New York auction house of Swann Galleries.
This highly prized collection features a group of letters to General George Weedon, who served under George Washington and later commanded the Virginia militia. Weedon received battlefield communications from, among others, Washington, Marquis de Lafayette, Thomas Jefferson, Horatio Gates and General von Steuben. Other letters are from Patrick Henry, Samuel Adams, Anthony Wayne, 31 of the 56 Signers of the Declaration of Independence, as well as soldiers, politicians and ordinary citizens.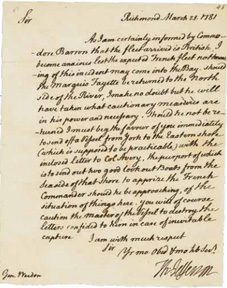 (A letter by Thomas Jefferson addressed to brigadier General George Weedon, informing him that the British fleet has arrived and expressing worry that the French fleet will arrive without this knowledge. Dated March 21, 1781, Richmond, VA.)
Other highlights are a six-page letter written in 1766 by David Hume describing Parliamentary discussions on the repeal of the Stamp Act and a 1780 letter from Benedict Arnold to Caesar Rodney, defending himself against accusations of profligate living. Proceeds from the sale will benefit the Minnesota Historical Society collections acquisition fund.
"Deaccessioning is an important museum activity that allows us to focus our collection on those areas that best meet our mission. Through this auction the Society will be much better positioned to collect items that tell Minnesota's story," said Stephen Elliott, Minnesota Historical Society director and CEO. "We thank the Ford family for its generous donation of these historical materials and for others that directly relate to the history of Minnesota."  
The heirs of Mr. Ford acknowledged the broad scope of the collection and requested that the Society consider selling the non-Minnesota items. The proceeds from the sale of these materials will be placed in the Allyn K. Ford Collections Fund, an endowment fund restricted for future purchases of manuscripts and artifacts that fall within the Society's mission of chronicling Minnesota's history.
Of the more than 1,500 items, approximately 10% relate to Minnesota. These items will not be sold and remain as the Allyn K. Ford Collection in the Society's manuscripts collections. In addition, in an effort to enhance preservation of the original holdings, all of the items were microfilmed. That microfilm remains available to scholars in the Library's Ronald M. Hubbs microfilm room.
About the Allyn K. Ford Collection
Allyn Kellogg Ford (1878 – 1964) was a Minneapolis businessman and autograph collector who began assembling a collection of materials relating to American history with the purchase of 122 Revolutionary War items in 1927.  Over the course of nearly four decades of collecting, Ford amassed more than 1,500 items primarily relating to prominent figures surrounding the Revolutionary War but also including documents relating to major literary figures, presidents, scientists and explorers.  Mrs. Ford donated the collection to the Minnesota Historical Society in 1965.
About the Minnesota Historical Society
The Minnesota Historical Society is a non-profit educational and cultural institution established in 1849. The Society collects, preserves and tells the story of Minnesota's past through museum exhibits, libraries and collections, historic sites, educational programs and book publishing. Using the power of history to transform lives, the Society preserves our past, shares our state's stories and connects people with history.
The Minnesota Historical Society is supported in part by its Premier Partners: Xcel Energy and Explore Minnesota Tourism.