For immediate release
New Traveling Exhibits to Make Stops at Venues Across Minnesota
From Winona to Virginia, history lovers from across Minnesota can view high quality traveling exhibits in their own home town, thanks to a new program that gets underway this month.
Funded by the 2008 Legacy Amendment and made possible by the Arts and Cultural Heritage Fund (ACHF), the Minnesota Historical Society Traveling Exhibits Program provides an opportunity to visit your place in history without leaving home. Exhibits developed by the Minnesota Historical Society and partnering organizations feature freestanding displays, audio/visual and interactive components, and onsite and online educational programming.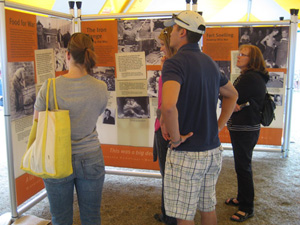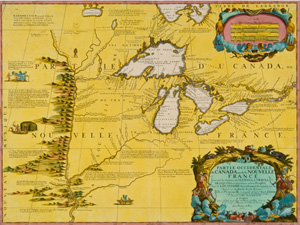 Two exhibits developed by the Minnesota Historical Society will be traveling across the state beginning in November 2010. They are "Minnesota on the Map," which features 23 reproduction maps and atlases including an 1863 map by Louis Hennepin of the upper Mississippi Valley, a video station with commentary by local historians, and a bin of laminated maps that allows for an up-close look at Minnesota geography and history. Plus, an oversized jigsaw puzzle map of the state will provide an engaging element for school children and other young visitors.
The second exhibit is "Minnesota Homefront, World War II," which explores the accomplishments, sacrifices, disappointments and challenges that have shaped the enduring legacy of Minnesota's Greatest Generation, as told through their own stories. Visitors find out what it was like to "make do" with rationing, farm during a severe labor shortage, work on the Iron Range, develop inventions for the war, be trained as a translator at Fort Snelling, and endure a starvation experiment for science and the war effort. The exhibit features nine graphic panels, audio interviews, songs of the period and a "Letter Stories" bin.
Additional exhibits are being developed including "Minnesota Disasters," "Rural Electrification," "Minnesota WPA" and "Making It Home."
In addition to these exhibits, the Minnesota Historical Society is pleased to partner with the Minnesota Humanities Center to continue the successful "Museums on Main Street" program from the Smithsonian Institution. This program provides resources for communities across Minnesota to bring in high quality exhibits developed by the Smithsonian Institution. This new partnership is funded by an ACHF Partnership Grant. For information on the exhibits visit the Minnesota Humanities Center website.
The schedule for traveling exhibits developed by the Minnesota Historical Society are:
"Minnesota on the Map"
Minnesota History Center, St. Paul, Nov. 20-Jan. 16
Municipal Building (City Hall), Minneapolis, Jan 29-March 20
Nobles County Historical Society, Worthington, April 2-May 22
Winona County Historical Society, Winona, May 28-July 24
Minnesota Discovery Center, Chisholm, Aug. 6-Sept. 25
"Minnesota Homefront"
Minnesota State Capitol, St. Paul, Nov. 15-Nov. 29
Carver County Historical Society, Waconia, Jan. 28-March 6
Dodge County Historical Society, Mantorville, March 19-May 8
Virginia Area Historical Society, Virginia, May 21-July 10
Wabasha Heritage Preservation Commission, Wabasha, July 23-Sept. 11
About the Minnesota Historical Society
The Minnesota Historical Society is a non-profit educational and cultural institution established in 1849. Its essence is to illuminate the past as a way to shed light on the future. The Society collects, preserves and tells the story of Minnesota's past through museum exhibits, libraries and collections, historic sites, educational programs and book publishing.