For immediate release
New Online Resource 'Becoming Minnesotan: Stories of Recent Immigrants and Refugees' Showcased at Education Minnesota
Features Oral Histories of Hmong, Khmer, Asian Indian, Somali and Tibetan Immigrants in Minnesota
There are more than 50,000 Hmong living in Minnesota today-that's almost a quarter of all the Hmong people in the United States. The Twin Cities has the highest urban concentration and Minnesota has the second highest absolute population behind California. But the story of this ethnic group is not one of numbers. Its a story of soldiers who fought with Americans against Communists during the Vietnam War, of civilians fleeing for safety to Thailand and Laos, of refugee camps and ultimately of a people bound by religion and culture trying to find a new home. This is a personal story of mothers, father, sisters and brothers making their way to Minnesota and then becoming Minnesotan.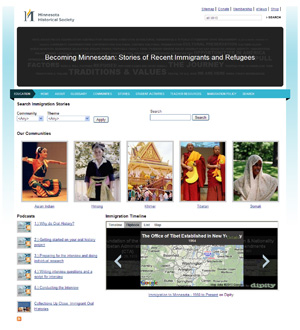 The new web site "Becoming Minnesotan," www.mnhs.org/immigration, is an online resource teachers and students can use to explore the lives and stories of recent immigrants, like the Hmong, to Minnesota. The web site contains oral histories narrated by members of immigrant and refugee groups, including Hmong, Khmer, Asian Indian, Somali and Tibetan, and resources for further investigation into these communities including photographs, maps, timelines, podcasts and classroom activities.
In addition to stories about the "old country" and what it has been like adjusting to the "new country," there are entries about preserving cultural identity, including this one by Sumaya Yusuf, a Somali teenager who has grown up in Minnesota. "Everywhere we've lived, we were the only family or we were one of the few families that lived there that were Somali so I've never really gotten a chance to assimilate into the Somali culture, which I think is bad. I'll be the first to admit that I can't speak Somali as well as I would like to. I would love to learn.  I've never had Somali friends. I have Somali friends now, and they're helping me out. I'm proud to be Somali, and I'm proud to have this culture. It's getting me connected to my culture. Now, I want to learn more; whereas, before, I was, like, whatever. I thought of myself more as a Somali American. Now, I think of myself as more of a Somali person living in America. I think there is a difference."
Attendees of the annual Education Minnesota Professional Conference in downtown St. Paul can visit the Society's booth and speak with teacher education specialists about the "Becoming Minnesotan" website and how to use it in the classroom.
Background on "Becoming Minnesotan"
For years, the Minnesota Historical Society has collected and preserved letters, diaries, photographs and artifacts that tell the story of the immigrant experience. Oral history is also a useful tool for documenting the lives and views of immigrants and refugees, especially of recent immigrants who often arrive with few possessions.
With the help of an Institute of Museums and Library Services (IMLS) grant, the Society has been able to digitize and make available online, oral histories of recent immigrants to Minnesota which already existed in the collections.
This collection of oral histories represents a unique source of recent history through the experiences of the newest Americans, in their own words. The content of the collection covers themes common to all of the groups, such as traditions and values, as well as perspectives unique to each one. 
The new web site "Becoming Minnesotan," presents excerpts from these oral history interviews, along with supporting information about each narrator, the communities represented and immigration in general, in a format designed to be of greatest use to teachers and students in grades 4-12. Additionally, these excerpts can be found on iTunes by searching "Becoming Minnesotan."
Additional Resources
In addition to the "Becoming Minnesotan" web site, full interviews and transcripts of the Society's oral history projects will soon be available online through the Immigrant Oral Histories web resource. They can also be accessed on cassette tape or CD at the Minnesota Historical Society Library.
The Minnesota Historical Society Library has records, classes and professional guidance available for those interested in family history research. Materials include birth and death records, passenger ship lists, naturalization records, newspapers and much more.
For those getting started online, Family Tree Magazine just named the Society's family history website one of the "Best State Websites for Genealogy" in 2010.
Immigration history is explored in the History Center exhibit "Open House: If These Walls Could Talk." This interactive exhibit takes visitors through a single house on St. Paul's East Side over a period of 118 years. Stories of families from the first German immigrants through the Italians, African-Americans, and Hmong who succeeded them, are told through rooms representing different eras of the house.
History Center field trips include 50-minute classroom lessons that bring students in contact with the real stuff of history-documents, photos, objects and more. Lessons that cover topics of immigration history are available for grades K-12.
For classes in outstate Minnesota and elsewhere, the Society's new Interactive Video Conferencing offers museum programs without having to leave the classroom. Programs include "Becoming Citizens of the Frontier: Lessons of a One Room Schoolhouse" (Grades 4-6).
The Minnesota Historical Society is the publisher of the curriculum used to teach our state's history, "Northern Lights: The Stories of Minnesota's Past." Written at a sixth-grade level and used by more than 45,000 students statewide, "Northern Lights" features two chapters about immigration to our state—one, telling stories from the late 1800's and the other, from modern immigrants.
History workshops for teachers are offered throughout the school year and include immigration as a topic.
The Minnesota Historical Society is a non-profit educational and cultural institution established in 1849. Its essence is to illuminate the past as a way to shed light on the future. The Society collects, preserves and tells the story of Minnesota's past through museum exhibits, libraries and collections, historic sites, educational programs and book publishing.