For immediate release
Twin Cities High School Students Earn Scholarships from the Minnesota Historical Society
Two graduating high school students earned awards in the Minnesota Historical Society's ninth annual Student Volunteer Scholarship program. The awards were announced on June 24.
Geoffrey Ludvik, from Cretin-Derham Hall in St. Paul and Chelsea Novodvorsky, from South High School in Minneapolis both earned a $1,000 scholarship which recognizes their contributions to the Society and to history education.
Five students completed an application process that included a review of their total years and hours of volunteer service, an essay, and letters of recommendation from a teacher and their Society staff supervisor.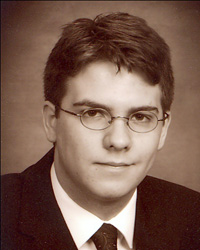 Geoffrey Ludvik began volunteering with the Society in 2008 and has contributed more than 152 hours. He has helped coordinate and staff special events including playing the piano during the holiday program at the Alexander Ramsey House; assisting visitors at the History Center, Historic Fort Snelling, James J. Hill House and at the State Capitol; and helping with the summer camp at Mill City Museum.
Geoffrey wants to become a professor of anthropology/archaeology. During Minnesota Archaeology Week in May 2008 at the Sibley House Historic Site, he had the opportunity to volunteer in the implementation and supervision of a mock archaeological excavation. He was able to explain to the participating children the basic principles of excavation and artifact recovery and realized his interest in the field during the process.
Geoffrey went on to volunteer with staff supervisor Patricia Emerson, Head of Archaeology at Historic Fort Snelling. Emerson says, "Geoffrey worked as a volunteer in the Elliot Park Neighborhood Archaeology Project, a public archaeology program co-sponsored by the Society's archaeology department, two summers in a row. The second year he was awarded "Outstanding Elliot Park Volunteer" by consensus of the organizers. He showed a big degree of commitment to learning everything he could during the project, worked very well with other volunteers and the professional archaeologist on site, and by the second year had taken on responsibility for note-taking and other documentations of the area he was excavating."
This summer Geoffrey is in Paducah, Kentucky excavating at the Kincaid Mounds site with a group from Southern Illinois University-Carbondale. This was once a very important American Indian political center more than 500 years ago. Geoffrey says, "I am incredibly excited and proud to be a part of this research."
Geoffrey will be attending the University of Wisconsin-Madison this fall, studying anthropology and archaeology. 
Chelsea Novordvorsky became an active volunteer in 2005 and has contributed more than 450 hours of volunteer service. Her father, Aaron Novordvorsky, works at the History Center as an exhibits project specialist.
Chelsea's volunteer experience included working as a baker, server and piano player during the holiday season at the Alexander Ramsey House; assisting visitors during special events at Historic Fort Snelling, Sibley House, State Capitol and the History Center; and providing administrative and research assistance to staff at the History Center.
Chelsea also helped the National History Day in Minnesota program by staffing the registration table, greeting students and their families and providing direction at the competition. She was eager to interact with the students about their projects and even learned a thing or two, saying "last year I was able to apply something I had read on an exhibit board at History Day to a topic my human geography class was discussing."
Her staff supervisor, Rachel Gorka, Financial Analyst at the History Center says, "Chelsea loves to take on projects that increase her knowledge and she works through issues on her own before seeking help. She is very responsible and has a great promise for her future. A+ in my book!"
Chelsea says of her time volunteering "I have learned more life skills at the History Center than I could in a classroom. I've also learned better people skills, efficiency skills and organizational skills while volunteering." 
Chelsea will be attending University of North Dakota in the fall studying forensic science. 
The Minnesota Historical Society is a non-profit educational and cultural institution established in 1849. Its essence is to illuminate the past as a way to shed light on the future. The Society collects, preserves and tells the story of Minnesota's past through museum exhibits, libraries and collections, historic sites, educational programs and book publishing.