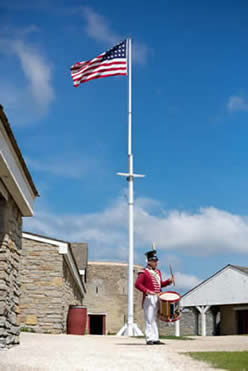 The Historic Fort Snelling Fifes and Drums will debut in summer 2014.
Watch and hear the 2013 Colonial Williamsburg Fife and Drum Corps.
Students 15 years and older are encouraged to join the ranks of this unique musical ensemble.
Learn period duty calls and military music
Teach music history to Historic Fort Snelling visitors
Depict one of the earliest military musical units in the state
Perform at historic sites and in area parades
Serve as a musical ambassador for the Minnesota Historical Society and the State of Minnesota.
Two positions:
Snare drummers who can master traditional grip
Woodwind players willing to learn 6-hole fife techniques
The program runs from February - August. We are recruiting a diverse group of students who are able to attend a group rehearsal one day per week and six to eight Saturday performances during the summer. Students will be trained and led by Fort staff with fife and drum experience.
Application for 2015 open in August.
Questions? Contact Ron Grogg Ron.Grogg@mnhs.org • 651-259-3186
Learn more about Student Volunteers.
Historic Fort Snelling is a National Historic Landmark located right here in Minnesota. At the historic fort, visitors can learn not only about military history from before the Civil War through World War II, but also about slavery in Minnesota and the U.S.-Dakota War of 1862.
Category:
Specialist Team, People Team