On the centennial of Sinclair Lewis's Main Street, discover the legacy of this brilliant author from Minnesota, whose literary works and social critiques of American life ring true today.
On view through
January 2, 2022
Ticket price includes admission to all History Center exhibits.
Members get in free. Join today!

Learn how Harry Sinclair Lewis, born in Sauk Centre, MN, in 1885, grew up to be an internationally known author.

On November 5, 1930, Sinclair Lewis became the first American to win the Nobel Prize for Literature. See his prize medal, on loan from Yale University Library, in the exhibit.

In Arrowsmith, published in 1925, Lewis wrote about an epidemic that political institutions couldn't get under control.

Explore how Lewis's satire It Can't Happen Here, set against the rise of Nazism and fascism in the 1930s, depicted an antihero who galvanized voters through fiery rhetoric.

Eleven of Sinclair Lewis's novels were made into movies. The best-known is Elmer Gantry, which won three Academy Awards, including Best Actor (Burt Lancaster) and Best Supporting Actress (Shirley Jones).

Visitors will see hundreds of books from MNHS and other collections, including many first editions with inscriptions by Sinclair Lewis.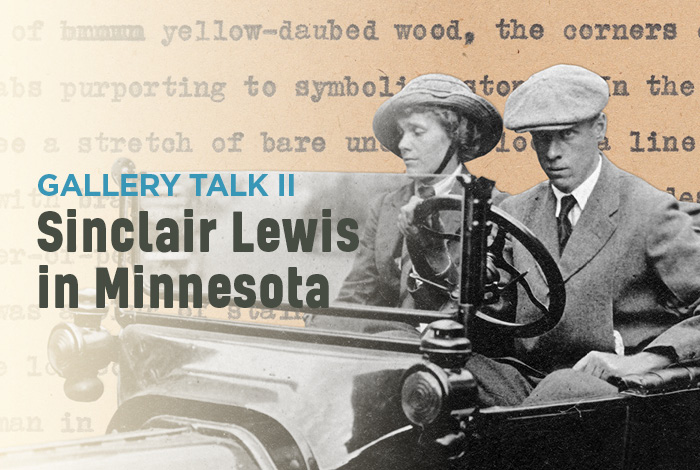 Virtual event
Thurs., Dec 9, 2021, 7:00 pm - 8:00 pm
Join us for a virtual gallery talk about Sinclair Lewis and the popular Minnesota History Center exhibit Sinclair Lewis: 100 Years of Main Street. Recently retired MNHS Acquisitions Librarian Patrick Coleman and Senior Exhibit Developer Kate Roberts will discuss Lewis's love of–and life in–his home state. Register by Monday, Dec. 6 with event code SL2MNHP.