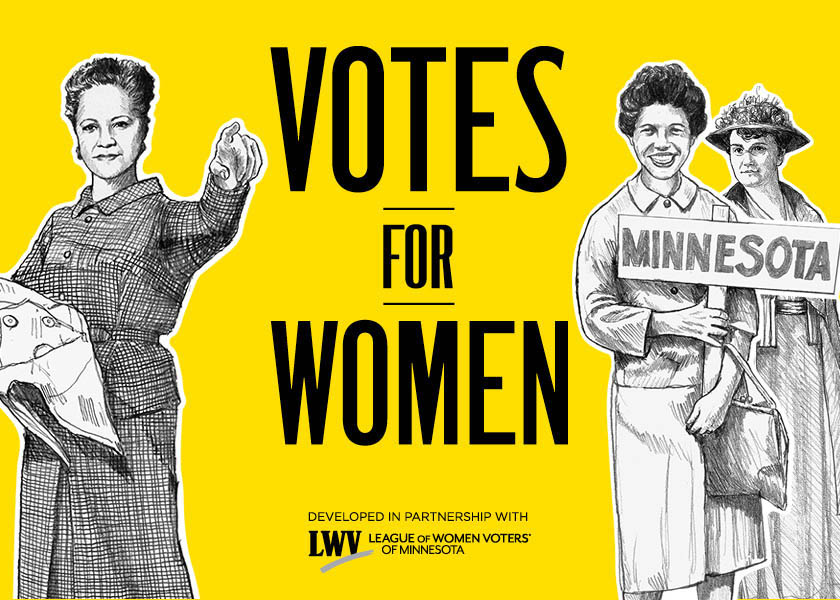 What actions will you take to shape our democracy? On the 100th anniversary of the ratification of the 19th Amendment, find your inspiration in these stories of Minnesota women.
The work of attaining voting rights for women spanned generations. In Minnesota, the movement began when a few women inserted themselves into public debates. It picked up momentum as women formed coalitions to amplify their voices. Once the amendment passed, women doubled down on their work — training new voters and fighting for the many people still denied voting rights. That work continues.
Extraordinary causes, extraordinary women
Sat., Oct 24, 2020, 1:00 pm - 2:15 pm
In this moment, when immigrants and refugees find themselves at the center of intense public debates, join Vangie Castro, Nimo Farah, and Carolina Ortiz for a conversation about their experiences as changemakers in Minnesota today. Moderated by oral historian and author Kim Heikkila.
Votes for Women is made possible thanks to a generous donation from Judy Schwartau.
Major sponsor

Associate sponsor

Project partner

Project partner