For immediate release
Media contacts:
Lauren Peck, Public Relations Specialist, Minnesota Historical Society, 651-259-3137, lauren.peck@mnhs.org
Sheri Hansen, Director of Communications, Advocacy & Public Outreach, AIA Minnesota, hansen@aia-mn.org
Minnesota Historical Society and AIA Minnesota Begin New Multiyear Partnership
Programming and a potential center for architecture at Mill City Museum will explore stories of Minnesota's built environment
The Minnesota Historical Society (MNHS) has entered into a new partnership with the American Institute of Architects Minnesota (AIA) devoted to collaborating to share the state's architectural legacy with the public.
The multiyear agreement includes co-developing new public programming, such as tours and lectures—slated to begin in October 2018—and creating a center for architecture at Mill City Museum, where the public can learn more about the architecture and built environment of Minneapolis, the Twin Cities and the state of Minnesota. 
The partners are also committed to creating new programming that will serve not only the Minneapolis area around Mill City Museum, but statewide audiences at other MNHS sites, like James J. Hill House and Split Rock Lighthouse on the North Shore.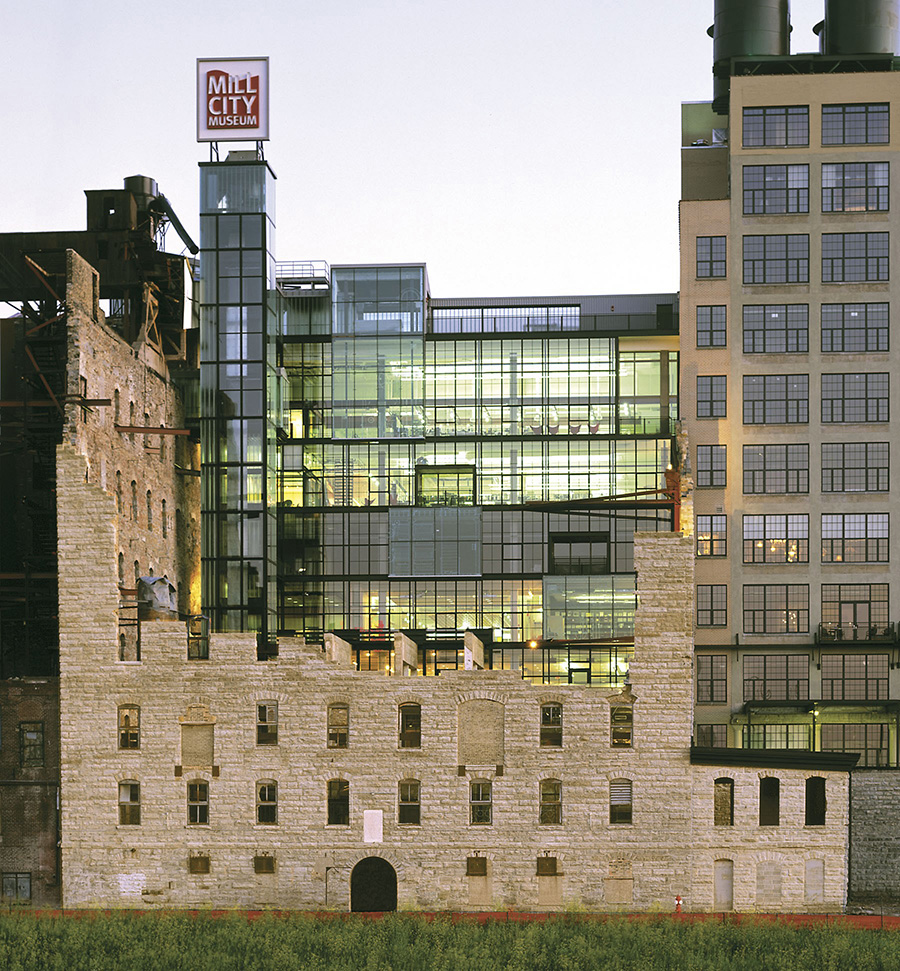 "Mill City Museum, built into the ruins of the Washburn A Mill, is an architectural masterpiece," said Doug Raney, director of MNHS metro sites. "It's modern design combined with its historical integrity has earned it numerous awards, including the AIA Honor Award for Architecture and the AIA Minnesota Honor Award. So when the opportunity came up to partner on content with AIA Minnesota, it just made sense."
"We are very excited to launch this new partnership. The reach of MNHS is so broad and deep–1 million kids and adults who visit their sites throughout Minnesota every year," says Nathan Johnson, AIA, NOMA, president of AIA Minnesota and partner with 4RM+ULA. "We can't wait to help visitors learn more about architecture, using these MNHS sites as a the launching point for exploration of why we've designed and built the way we have, and how we can design even better spaces for the future."

About AIA Minnesota
The American Institute of Architects Minnesota, founded in 1892, is dedicated to strengthening our communities, improving our built environment and providing exceptional design. For more information on the organization and Minnesota architectural firms, reference our website, www.aia-mn.org, visit facebook.com/aiaminnesota, and pick up a copy of Architecture MN, the award-winning architecture magazine of the Midwest.
About Mill City Museum
Mill City Museum, built within the ruins of the Washburn A Mill, a National Historic Landmark, chronicles the flour milling industry that fueled the growth of Minneapolis. The museum features an 8-story Flour Tower ride, hands-on exhibits, and breathtaking views of the Minneapolis riverfront. The museum is located at 704 S. Second St. in downtown Minneapolis. For more information, visit www.millcitymuseum.org.
About the Minnesota Historical Society
The Minnesota Historical Society is a nonprofit educational and cultural institution established in 1849. MNHS collects, preserves and tells the story of Minnesota's past through museum exhibits, libraries and collections, historic sites, educational programs and book publishing. Using the power of history to transform lives, MNHS preserves our past, shares our state's stories and connects people with history. Visit us at mnhs.org.
The Minnesota Historical Society is supported in part by its Premier Partners: Xcel Energy and Explore Minnesota Tourism.