For immediate release
Twin Cities Teens Honored Today with Scholarships from Minnesota Historical Society
Oakdale, Apple Valley and St. Paul students honored for commitment to history education.
Three Twin Cities teens were honored today with a $1,000 scholarship from the Minnesota Historical Society in recognition of their service to advancing history education in Minnesota. The 2018 awardees include recent high school graduates, Nathan Alemu from Oakdale, Antonio Dominquez from St. Paul, and Jonathan Rosario from Apple Valley.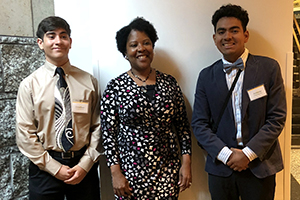 (Left to right: Jonathan Rosario, Melanie Adams MNHS director of guest experience and educational experience, Antonio Dominguez. Not pictured Nathan Alemu.)
Nathan Alemu attended Tartan High School in Oakdale and plans to attend the University of Minnesota in the fall to study economics and French. At MNHS he served as a visitor services greeter and helped with coat check. He says volunteering at MNHS taught him some of the skills necessary for his ambitions as a lawyer and community leader. He learned about the complexities and the diversity of Minnesota communities that he hopes to serve one day.
Jonathan Rosario attended Eastview High School in Apple Valley and plans to attend the University of St. Thomas in the fall to study pre-law and psychology. At MNHS Jonathan volunteered as a museum assistant in the exhibit galleries where he learned the value of history and how its part of everyone's story. He says volunteering at MNHS helped him stay focused on his goals. He also learned to befriend everyone, always have a smile on his face, and be courteous to all.
Antonio Dominguez attended Highland Park High School in St. Paul and plans to attend St. Paul College in the fall and then Metropolitan State University where he will study nursing. Antonio became involved with MNHS in 2015 when he attended a summer college-readiness program offered in conjunction with the University of Minnesota. He has also been involved with National History Day in Minnesota earning a paid internship with the program. He says volunteering at MNHS provided him a real work place experience and with the help of his mentors, he strengthened his public speaking and teamwork skills.
Each year MNHS recognizes the volunteer contributions made by high school seniors with a $1,000 scholarship. The scholarship program encourages young people to become involved in history education and to recognize the benefits of volunteerism.
About Minnesota Historical Society
The Minnesota Historical Society is a nonprofit educational and cultural institution established in 1849. MNHS collects, preserves and tells the story of Minnesota's past through museum exhibits, libraries and collections, historic sites, educational programs and book publishing. Using the power of history to transform lives, MNHS preserves our past, shares our state's stories and connects people with history. Visit us at mnhs.org.
The Minnesota Historical Society is supported in part by its Premier Partners: Xcel Energy and Explore Minnesota Tourism.