For immediate release
Native American Artists-in-Residence to Focus on Moccasins, Makizinan and Hanpikceka
Artists selected for the 2018 artist-in-residence program hail from Cloquet and Welch, Minnesota
The Minnesota Historical Society (MNHS) announced today two recipients for the 2018 Native American Artist-in-Residence program. This is the fourth year of the grant program which is designed to help revitalize traditional forms of Native American art. The selected artists will serve a six-month paid residency to study the collections at MNHS and other institutions to aid in a better understanding of their respective art forms. They will also share this knowledge by developing community-based programming in their home communities.
The 2018 awardees are: 
Sarah Agaton Howes is a member of the Fond du Lac Band of Lake Superior Chippewa. She lives in Cloquet, Minnesota.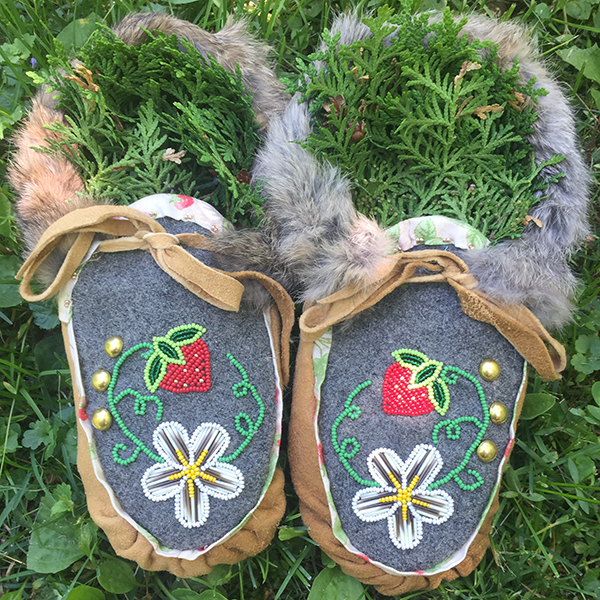 Agaton Howes is a beadwork and textile artist who plans to study the styles and construction of Ojibwe moccasins or makizinan in the MNHS collections. Working with an apprentice they will create a bilingual (English and Ojibwe) pattern book to share with the community. Agaton Howes says, "Makizinanikewin is always about community, always about sharing, and always about the development of other people."
Cole Jacobson is a member of the Prairie Island Indian Community of Mdewakanton Dakota. He lives in Welch, Minnesota.
Jacobson is a beadwork and visual artist who also plans to study moccasins in the MNHS collections. Jacobson will focus on Dakota moccasins or hanpikceka, and the relatively unknown Woodland-influenced designs of Dakota material culture, specifically pucker toe moccasins. Dakota people have typically been associated with Plains culture, and Jacobson hopes that his research and community workshops, "will be able to contribute to this revitalization, and that it will also be beneficial to our communities as Dakota people."
In addition, this year the program also awarded two Encouragement Grants which will support traditional artists to continue with their cultural arts and research. The grants consist of a stipend and a paid research visit to MNHS collections. The 2018 Encouragement Grant awardees are Steve Premo, Mille Lacs Band of Ojibwe, and Eliza Skenandore, Oneida Nation of Wisconsin.
The 2018 Artists-in-Residence were selected based on the recommendations of a panel consisting of experts in the field of Native arts and culture. Find out more about the program and view works by previous artists-in-residence.
The Native American Artist-in-Residence program is made possible in part by a grant from the Margaret A. Cargill Foundation.
About the Minnesota Historical Society
The Minnesota Historical Society is a nonprofit educational and cultural institution established in 1849. MNHS collects, preserves and tells the story of Minnesota's past through museum exhibits, libraries and collections, historic sites, educational programs and book publishing. Using the power of history to transform lives, MNHS preserves our past, shares our state's stories and connects people with history. Visit us at mnhs.org.
The Minnesota Historical Society is supported in part by its Premier Partners: Xcel Energy and Explore Minnesota Tourism.