For immediate release
Quick facts:
Exhibit: "Thank You For Shopping" 
Dates: Nov. 15, 2018-Feb. 24, 2019
Where: Mill City Museum, 704 S. 2nd St., Minneapolis
Cost: Free 
Hours: Tues-Sat, 10 a.m.-5 p.m., Sun, Noon-5 p.m.
New Photography Exhibit Explores the Legacy of Local Department Stores From Dayton's to Donaldson's
"Thank You For Shopping" exhibit on display at Mill City Museum from Nov. 15, 2018 to Feb. 24, 2019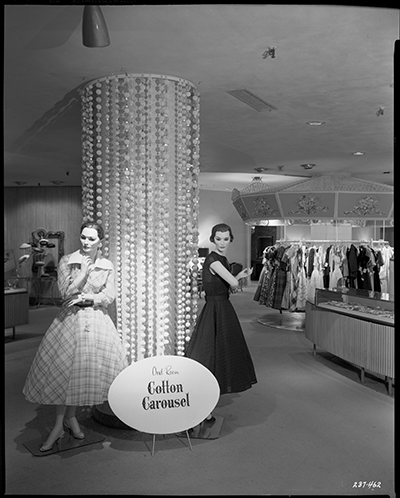 Throughout the 20th century, department stores ruled the retail landscapes of downtown Minneapolis and St. Paul. More than just shopping centers, stores like Dayton's, Powers, Donaldson's, Young-Quinlan, the Emporium and the Golden Rule were centers of social life. 
This exhibit is a companion to the new MNHS Press book "Thank You For Shopping: The Golden Age of Minnesota Department Stores" by Kristal Leebrick, and visitors can explore photographs of Minnesota's iconic stores as well as a slideshow of many photos that weren't included in the book.
MNHS Press and Mill City Museum will celebrate the book's launch and exhibit opening on Thursday, Nov. 15 from 6-8 pm. Remarks begin at 7 pm, and Leebrick will be joined by designer Jack Barkla and artist Dan Mackerman, who both helped create Dayton's 8th Floor holiday displays. Attendees will also be able to view a display of department store artifacts from MNHS collections. 
The exhibit will be on display in Mill City Museum's Mill Commons and is free and open to the public during regular museum hours. 
About Mill City Museum
Built within the ruins of the Washburn A Mill, a National Historic Landmark, the award-winning Mill City Museum chronicles the flour milling industry that fueled the growth of Minneapolis. The story comes to life through the eight-story Flour Tower, Water Lab, Baking and other hands-on exhibits.
The museum is located at 704 S. Second St. in Minneapolis. Hours are 10 a.m. to 5 p.m. Tuesdays through Saturdays and noon to 5 p.m. Sundays. The site is also open Mondays 10 a.m. to 5 p.m. in July and August. For more information, call 612-341-7555 or visit www.mnhs.org/millcity.
The Minnesota Historical Society is a nonprofit educational and cultural institution established in 1849. MNHS collects, preserves and tells the story of Minnesota's past through museum exhibits, libraries and collections, historic sites, educational programs and book publishing. Using the power of history to transform lives, MNHS preserves our past, shares our state's stories and connects people with history.
The Minnesota Historical Society is supported in part by its Premier Partners: Xcel Energy and Explore Minnesota Tourism.
| | |
| --- | --- |
| | Minnesota Historical Society |