For immediate release
Split Rock Lighthouse's Longest-Serving Keeper Retires After Nearly Four Decades on Lake Superior
For 36 years, Lee Radzak has cared for the National Historic Landmark and called it home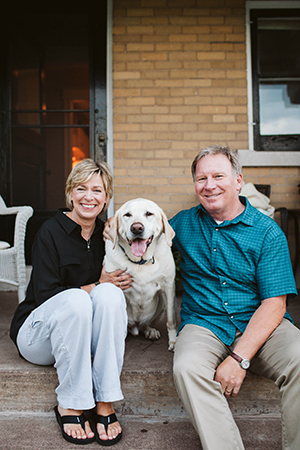 Since it first opened in 1910, Split Rock Lighthouse on Lake Superior has only been entrusted to a handful of head lighthouse keepers. In April 2019, Split Rock's latest and longest resident keeper, Lee Radzak, will retire after 36 years in the role and 42 at the Minnesota Historical Society (MNHS). 
When Radzak first started the job at Split Rock Lighthouse in 1982 after six years as an MNHS archaeologist, he and his wife Jane took up residence in one of three historic keepers' houses at the site. They have spent almost 40 years living and caring for one of Minnesota's most popular tourist attractions, and the couple easily holds the record for the longest residents at Split Rock Lighthouse in its nearly 110-year history. 
While job duties as site manager of the lighthouse don't involve protecting ships from Superior's rocky shores—Split Rock was decommissioned by the Coast Guard in 1969—Radzak's work has included everything from dealing with power outages and raging storms to overseeing restoration on the site's historic buildings. All while welcoming a constant stream of year-round visitors; an estimated 4.75 million people have visited the site during his tenure. 
"It's arguably the biggest tourist destination north of Duluth. 160,000 people now come here every year and have ever since the highway opened up in the 1920s," Radzak said. When he's asked by visitors if it ever gets lonely, he has to laugh a little. "You want to say: 'Well look around, there're 50 people standing behind you walking up to the lighthouse.' No, it's not a lonely place." 
While today few people can say they've lived and worked at a lighthouse for so long, Radzak is humble about the unique experience. "My wife and I feel that we are just ordinary people that were given the unique privilege to live an extraordinary life at Split Rock."
Split Rock's Story
Radzak's time as the lighthouse continues a long tradition of resident keepers tasked with protecting ships—often carrying iron ore—on Lake Superior during the May-December shipping season. Novelist James Oliver Curwood once called the North Shore "the most dangerous piece of water in the world." 
During Lake Superior's iron ore boom in the early 20th century, a single November 1905 storm damaged 29 ships on the lake—one-third of the U.S. Steel Corporation's uninsured property. After lobbying led by U.S. Steel's president, Congress appropriated $75,000 to build a lighthouse and fog signal at Split Rock to protect ships along the lake's rocky shores. 
Construction was completed in 1910, and Orren "Pete" Young became Split Rock's first head keeper tasked with keeping the station operational. For its first 15 years, the isolated lighthouse was only reachable by water; it didn't become accessible by land until the Lake Superior International Highway was built in 1924. 
The highway made it easier for keepers and their families to live full time at the lighthouse, and it also brought a tourism boom to the North Shore. By 1938, head keeper Franklin J. Covell estimated nearly 100,000 people had visited the site. 
Over time, with the rise of new navigational technology like GPS, lighthouses became increasingly obsolete, and Split Rock was decommissioned in 1969. The site was obtained by the state of Minnesota in 1971, which transferred management to the Minnesota Historical Society in 1976. It remains a popular tourist site and is one of the most photographed and iconic locations in Minnesota.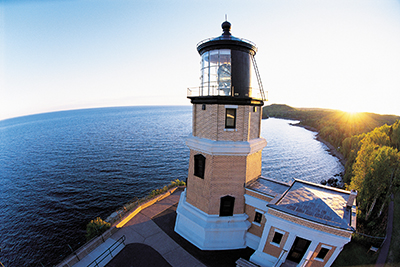 Lee Radzak's Career at the Lighthouse
Radzak's career has paralleled some the biggest achievements in the site's last 40 years, including the Secretary of the Interior naming Split Rock Lighthouse a National Historic Landmark in 2011—one of only 25 in Minnesota—a process that took several years to complete. 
He also oversaw construction of a visitor center in 1986, led the celebration of Split Rock's 100th birthday in 2010, expanded the interpretive program and led a major restoration of the lighthouse and fog signal building.
Radzak has been repeatedly recognized for his service on the North Shore and in the lighthouse preservation community, including receiving the 2014 Lake Superior Magazine Achievement Award and the F. Scott Holland Award, the American Lighthouse Council's lifetime achievement award, in 2016. 
"I can't think of a better representative of the Minnesota Historical Society than Lee Radzak," said Ben Leonard, director of Greater Minnesota sites and partnership sites at MNHS. "Over his years working with millions of visitors, Lee has truly embodied a commitment to preserve, protect and share Minnesota's past with the world."
About Split Rock Lighthouse
Split Rock Lighthouse, a National Historic Landmark, is the place to discover Minnesota's role in Great Lakes shipping and life on the North Shore through guided tours and a visitor center with an award-winning film, exhibits and museum store. The site is located in Split Rock Lighthouse State Park on U.S. Highway 61, 20 miles northeast of Two Harbors. For more information, visit www.mnhs.org/splitrock.
The Minnesota Historical Society is a nonprofit educational and cultural institution established in 1849. MNHS collects, preserves and tells the story of Minnesota's past through museum exhibits, libraries and collections, historic sites, educational programs and publishing. Using the power of history to transform lives, MNHS preserves our past, shares our state's stories and connects people with history. Visit us at mnhs.org.
The Minnesota Historical Society is supported in part by its Premier Partners: Xcel Energy and Explore Minnesota Tourism.