For immediate release
New Exhibit Featuring MNHS Fashion Collections Opens Today at Minneapolis Institute of Art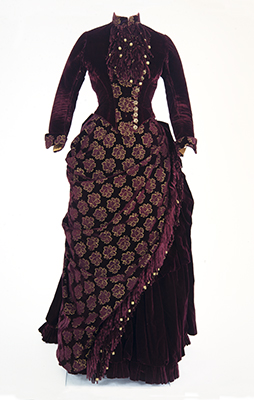 A new exhibit co-curated by staff from the Minnesota Historical Society (MNHS) and Minneapolis Institute of the Art (Mia) traces the rise of Twin Cities couture—high-end, hand-sewn, custom-made clothing—during a pivotal moment for fashion both worldwide and the developing state of Minnesota. 
Opening today in Mia's Cargill Gallery, the new exhibit "The Art of High Style: Minnesota Couture 1880–1914" features historic dress from the Minnesota Historical Society collection—most never displayed before—set in context with paintings and works on paper from Mia's collection.
"We're delighted to share these extraordinary objects that tell the story of Minnesota's little-known historic couture fashion industry and the talented female artisans who led it," said Nicole LaBouff, associate curator of textiles at Mia. 

Twin Cities couture ascended during a pivotal time for Minnesota. Abundant natural resources extracted through milling and mining, along with innovations in rail transportation, brought a rapid growth in the state's population. The economic boom enriched early Minnesotans and attracted industrial tycoons, and this class of wealthy white citizens sought elegant dress to reflect its new status.
Local designers had strong ties to Paris and other fashion centers, and their painstakingly and meticulously tailored clothing kept their clientele in step with tastemakers around the globe.
"The exhibit highlights the interrelationships between the couturieres who created the vision, their clients who dressed for their social occasions, and the workers who constructed the garments. All set within a backdrop of the development of Minnesota's industries," said Linda McShannock, MNHS textile curator and co-curator of the exhibit.
"The Art of High Style" will be on display at Mia through Aug. 4, 2019, and is free and open to the public.
About the Minnesota Historical Society
The Minnesota Historical Society is a nonprofit educational and cultural institution established in 1849. MNHS collects, preserves and tells the story of Minnesota's past through museum exhibits, libraries and collections, historic sites, educational programs and publishing. Using the power of history to transform lives, MNHS preserves our past, shares our state's stories and connects people with history. Visit us at mnhs.org.

The Minnesota Historical Society is supported in part by its Premier Partner: Explore Minnesota Tourism.
Photo: Brocade burgundy velvet two-piece evening dress created by dressmaker Mary G. Worley of St. Paul, ca. 1884-1889