For immediate release
Mill City Museum's Water Lab Exhibit Gets First Major Updates Since Opening in 2003
The interactive Water Lab offers new ways to explore Minneapolis history along the Mississippi, thanks to support from the Henry S. Crosby Jr. Fund.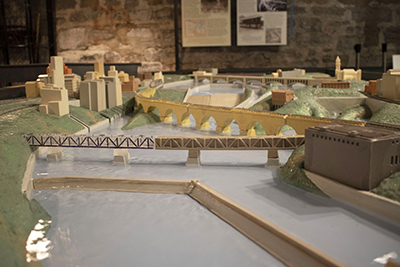 This week Mill City Museum unveils the first major additions to its Water Lab since the museum opened in 2003. An interactive exhibit that teaches visitors how the Mississippi River powered Minneapolis industry for over a century, the Water Lab has long been a visitor favorite, but the space needed a refresh after 16 years. 
Thanks to a generous $250,000 grant from the Henry S. Crosby Jr. Fund, Mill City Museum can now offer visitors a Water Lab experience that is better than ever.
Henry S. Crosby Jr. passed away in 2009 and was the great-grandson of John Crosby, whose partnership with Cadwallader Washburn formed the Washburn Crosby Company—the predecessor to General Mills—whose Washburn A Mill is now home to Mill City Museum. The Henry S. Crosby Jr. Fund was established to continue his legacy of philanthropy and environmentalism.
New Water Lab features include:
New Direct-Drive Waterpower interactive: This 7-foot tall exhibit shows how water-powered turbines were key to operating the mills on the Minneapolis riverfront. Visitors can open and close gates to control the water flow and see how various belts, pulleys and machines spring into action. 
 
A revamped Build a Mill City water table: This water table now offers an expanded and more detailed model of the riverfront in 1916, the peak of the Minneapolis milling industry. The table has more than 100 3D puzzle pieces of mills, railroads, bridges, and more, which visitors can put together to build the Mississippi riverfront as it appeared in the 1910s.
 
New exhibit graphic panels: New panels around the room explore the 12,000-year story of St. Anthony Falls—called Owaniyomni in Dakota—including Native people's relationship with the falls.
 
Work to improve visitor experience: After 16 years of operation, staff replaced aging components in existing interactives and worked to reduce noise, including installing quieter motors throughout the space.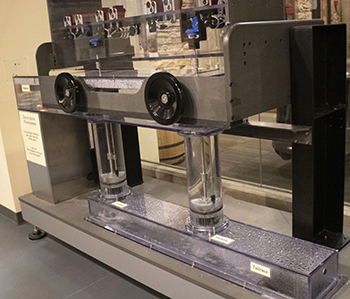 In conjunction with the revamped Water Lab, this fall Mill City Museum will host an event series titled "River, Water, Stories," examining the relationship between people and the Mississippi River in the past and today. Events include a new exhibit exploring the history of St. Anthony Falls; a panel discussion on caring for Minnesota's rivers, lakes, and land; and a family day to enjoy water-related activities and explore the new Water Lab. 
About Mill City Museum
Built within the ruins of the Washburn A Mill, a National Historic Landmark, the award-winning Mill City Museum chronicles the flour milling industry that fueled the growth of Minneapolis. The story comes to life through the eight-story Flour Tower, Water Lab, Baking Lab and other hands-on exhibits.
The museum is located at 704 S. Second St. in Minneapolis. Hours are 10 a.m. to 5 p.m. Tuesdays through Saturdays and noon to 5 p.m. on Sundays. The site is also open on Mondays from 10 a.m. to 5 p.m. in July and August. For more information, call 612-341-7555 or visit www.mnhs.org/millcity.
The Minnesota Historical Society is a nonprofit educational and cultural institution established in 1849. MNHS collects, preserves and tells the story of Minnesota's past through museum exhibits, libraries and collections, historic sites, educational programs and publishing. Using the power of history to transform lives, MNHS preserves our past, shares our state's stories and connects people with history. Visit us at mnhs.org.
The Minnesota Historical Society is supported in part by its Premier Partner: Explore Minnesota Tourism.