For immediate release
Minnesota Historical Society Welcomes New Split Rock Lighthouse Manager
Starting Nov. 1, Hayes Scriven, executive director of the Richard I. Bong Veterans Historical Center, will oversee the historic North Shore lighthouse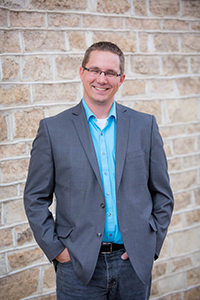 Starting Nov. 1, Split Rock Lighthouse will have a new site manager overseeing operations of the historic site, which welcomes 150,000+ visitors annually. The Minnesota Historical Society has hired Hayes Scriven, current executive director of the Richard I. Bong Veterans Historical Center in Superior, Wisconsin, to take on the role. 
A 2005 graduate of the University of Minnesota Duluth, Scriven has led the Bong Center since March 2017. During his time as executive director, museum attendance has grown by 38% and membership by 15%. From 2006-2017, Scriven served as executive director of the Northfield Historical Society, taking on the director role at only age 22 in 2006.
Since Scriven, his wife, Jenny, and two kids moved from Nerstrand to the North Shore, he's quickly become involved in the community. In addition to directing the Bong Center, he serves on the board of the Lake County Historical Society and is a member of the Friends of the Edna G and City of Two Harbors' Eda G Commission, working to preserve the last steam-powered tugboat on the Great Lakes. In fall 2018, the Duluth News Tribune named Scriven to its 20 Under 40 list.
"Hayes emerged from a very competitive applicant pool because of his proven track record leading cultural institutions and his community connections along the North Shore," said Ben Leonard, director of Greater Minnesota and partnership sites at MNHS.
Scriven replaces longtime site manager Lee Radzak, who retired in April 2019 after 36 years at Split Rock. As site manager, Scriven's duties will include overseeing a staff of 35 during peak season, facilities management and preservation, programming for public and school audiences, community outreach and more.
"I am extremely honored and excited to be at Split Rock. This a true dream come true for my family and me," Hayes said. "I am looking forward to working with the staff and greeting all the visitors at one of Minnesota's most iconic sites."
About Split Rock Lighthouse
Split Rock Lighthouse, a National Historic Landmark, is the place to discover Minnesota's role in Great Lakes shipping and life on the North Shore through guided tours and a visitor center with an award-winning film, exhibits and museum store. The site is located in Split Rock Lighthouse State Park on U.S. Highway 61, 20 miles northeast of Two Harbors. For more information, visit www.mnhs.org/splitrock.
The Minnesota Historical Society is a nonprofit educational and cultural institution established in 1849. MNHS collects, preserves and tells the story of Minnesota's past through museum exhibits, libraries and collections, historic sites, educational programs and publishing. Using the power of history to transform lives, MNHS preserves our past, shares our state's stories and connects people with history. Visit us at mnhs.org.
The Minnesota Historical Society is supported in part by its Premier Partners: Xcel Energy and Explore Minnesota Tourism.