For immediate release
Friday is Final Day for Public Input Survey on the Name for Historic Fort Snelling
Friday will be the final day the public can provide feedback on the name of the 23-acre historic site known as Historic Fort Snelling through an online survey. So far, more than 6,400 people from across Minnesota and outside the state have responded. 
The Minnesota Historical Society is asking for input on the name of the site in light of ongoing revitalization efforts and the expanded stories of history being shared there. The name of the restored 1820s fort structure—which sits on about 4 acres of the property—will remain Fort Snelling.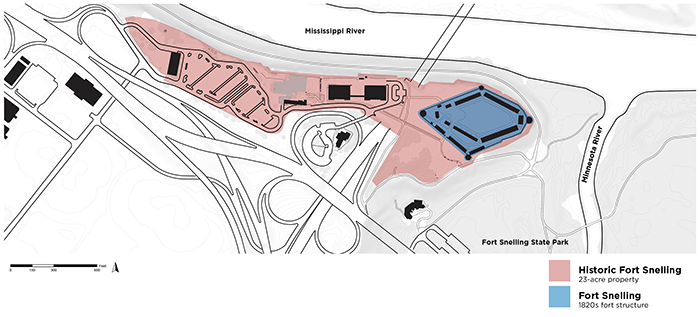 A task force—chaired by MNHS governing board past president Phyllis Goff and composed of board members and independent community leaders—will consider survey responses alongside feedback from six public meetings held across the state. In addition, the task force will incorporate other considerations into a report, including MNHS's mission, vision and values; strategic priorities; the vision for the historic site's revitalization; visitor survey data and input from stakeholder groups.
The task force will present the report to the MNHS governing board's programs committee, which will discuss a possible name change and make a recommendation to the full board. If the board recommends a name change, it will be submitted to the Minnesota State Legislature, which has final authority over name changes for properties in the state's historic sites network. 
The Historic Fort Snelling revitalization project is slated to break ground in early 2020. It includes removal of the current, failing visitor center; creation of a dynamic new visitor center with a 4,000-square-foot exhibit inside a rehabilitated 1904 cavalry barracks; landscaping that provides opportunities for outdoor learning, reflection and commemoration; and improved parking, wayfinding and access. 
The $34.5 million project includes $19.5 million appropriated by the state, plus $15 million pledged in private funding. The site will remain open during construction with work expected to be completed in 2022.
About Historic Fort Snelling
Historic Fort Snelling, Minnesota's first National Historic Landmark, resides on Dakota homeland known as Bdote. The restored 1820s fort and visitor center present the stories of those who crossed paths here—from the Dakota, Ojibwe, and enslaved people, to fur traders, immigrants, soldiers and veterans. The site is located at state Highways 5 and 55 overlooking the Mississippi and Minnesota rivers. For more information, visit www.mnhs.org/fortsnelling. 
About the Minnesota Historical Society
The Minnesota Historical Society is a nonprofit educational and cultural institution established in 1849. MNHS collects, preserves and tells the story of Minnesota's past through museum exhibits, libraries and collections, historic sites, educational programs and publishing. Using the power of history to transform lives, MNHS preserves our past, shares our state's stories and connects people with history. Visit us at mnhs.org.