For immediate release
MEDIA PREVIEW: 'Our Home: Native Minnesota' Exhibit Preview Week Starts Today, Monday, Dec. 2, Meet Artist Randilynn Boucher Friday, Dec. 6
Native Americans—Dakota, Ojibwe, as well as people from other tribal nations—have been in this area for thousands of years and still live in Minnesota today. The new exhibit "Our Home: Native Minnesota" opening Dec. 7, 2019, at the Minnesota History Center shares their stories, and their enduring presence and deep connection to the land.
Media are invited to explore the exhibit any time this week and can speak with featured artist Randilynn Boucher on Friday, Dec. 6 at 10 a.m. 
Boucher participated in the MNHS Native American Artist-in-Residence program in 2017 and crafted a kiphi, or cradleboard baby carrier, which is on display in the exhibit. Her cradleboard includes a beaded representation of the Milky Way, an important symbol in her cultural worldview of birth and death – Dakota people are known as the Wicanpi Oyate or the Star Nation and before birth and after death, they travel to earth along the Milky Way.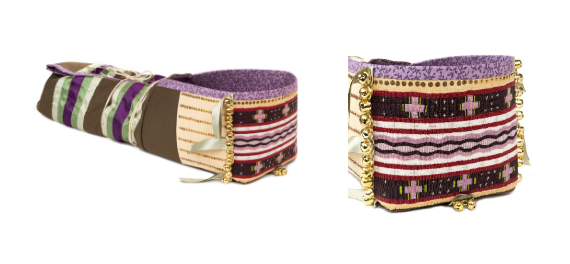 Please contact me to arrange for an early look at the exhibit this week and to speak with exhibit developers, collections staff, and other content experts. Plus, visit on Friday, Dec. 6 at 10 a.m. to meet artist Randilynn Boucher.
The press kit is available here. 
Thank you,
Jessica Kohen
Minnesota Historical Society
651-259-3148
Jessica.Kohen@mnhs.org