For immediate release
New Art Exhibit Investigates Climate Change in Northern Minnesota's Forests Through Botanical Arts
Art From the Edge of the Boreal Forest: Reflecting Biodiversity" opens Jan. 18 at the James J. Hill House
For the past 10 years, a group of local botanical artists has created numerous pieces of art about the fragility and beauty of the boreal forests in Northern Minnesota. Working with climatologists, naturalists and other specialists, the artists identified 10 Minnesota trees that are most vulnerable to climate change: balsam poplar, balsam fir, black spruce, white spruce, jack pine, red pine, paper birch, quaking aspen, black ash and tamarack. 

In the new exhibit, "Art From the Edge of the Boreal Forest: Reflecting Biodiversity," visitors can see traditional botanical artwork depicting Minnesota's most threatened trees from the following local artists: Vicki Barth, Wendy Brockman, Marj Davis, Kathy Franzen, Nancy Gehrig, Debra Greenblatt, Julie Martinez, Mary Anne O'Malley, Kathleen Reeves and Bruce Wilson. 
Also on exhibit will be items created by woodturner Bob Carls from wood harvested from each type of tree. 

The exhibit opens Saturday, Jan. 18 in the James J. Hill House art gallery and will be on display through Sunday, June 21.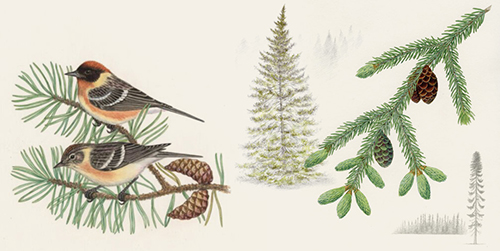 About James J. Hill House
The James J. Hill House was completed in 1891 as the home of James J. Hill, builder of the Great Northern Railway, and his family. A National Historic Landmark, the 36,000-square-foot mansion is open year-round for guided tours, art exhibits and special events. It is located a half-block west of the Cathedral of St. Paul at 240 Summit Ave. For more information, visit www.mnhs.org/hillhouse. 

The Minnesota Historical Society is a nonprofit educational and cultural institution established in 1849. MNHS collects, preserves and tells the story of Minnesota's past through museum exhibits, libraries and collections, historic sites, educational programs and publishing. Using the power of history to transform lives, MNHS preserves our past, shares our state's stories and connects people with history. Visit us at mnhs.org.

The Minnesota Historical Society is supported in part by its Premier Partner: Explore Minnesota Tourism.