For immediate release
Minnesota Couple's World War II Love Letters Join MNHS Collection Just in Time For Valentine's Day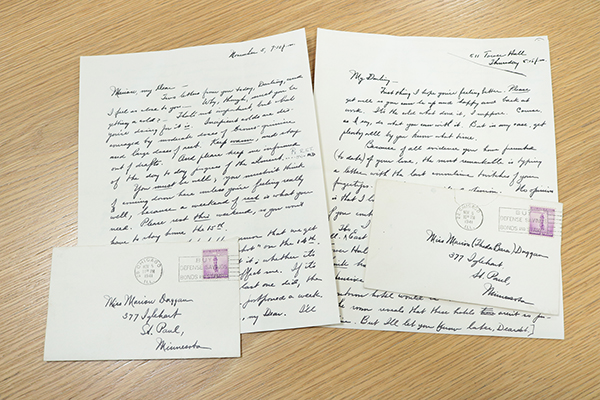 Robert Thorstensen of Red Wing and Marion Duggan of St. Paul first met and fell in love as students at the University of Minnesota in 1940, and the rest, as they say, is history. 
The Thorstensen family papers—the bulk of which are the couple's letters back and forth during World War II—were officially added to the Minnesota Historical Society collections this week, where they will be preserved for future generations.
The Thorstensens' children donated four boxes of family documents to MNHS, including hundreds of letters between Robert and Marion, written to each other nearly every day while he was in naval officer training and stationed in California and the Pacific.
"They are a vivid portrayal of a particular moment in history," said Kristin O'Connell, the Thorstensens' daughter. 
 
Married in 1942 while Robert was stationed in San Diego, the couple's letters express their love for each other and share details of their lives parted by war. Robert wrote about his Navy experiences as a communications officer, though he couldn't share any information about his location—even weather details were classified. Marion reported on life in Minnesota on the home front, including the growth of their young daughter. 
Several letters also discuss books, music and local arts and entertainment in Minnesota.
"Robert and Marion connected over a shared love of literature and were both excellent writers in their own right. Their letters are witty, romantic, informative and touching and provide valuable insight into naval practices and Minnesota life during World War II," Kathryn Hujda, manuscripts curator at MNHS, said.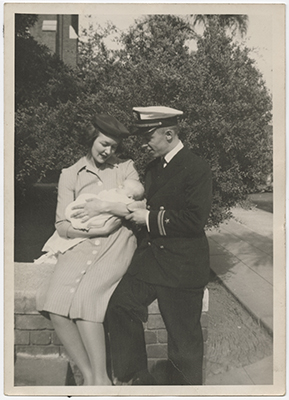 After the war, the couple eventually settled on the East Coast. Robert became a professor of literature and composition at the New York State College for Teachers in Albany, and Marion taught English at the Albany Academy for Girls. Married for 65 years, Robert passed away at age 90 in 2008, and Marion at age 93 in 2014. 

Once the collection is cataloged, the Thorstensen family papers will be available to researchers in the Gale Family Library this spring.
 
"We thought this donation would honor our parents by giving their voices an extended life, and a voice in the stream of history that would not be lost with our deaths," O'Connell said. "It felt like a homage to them and expresses our gratitude for all they did to shape us." 
About the Minnesota Historical Society
The Minnesota Historical Society is a nonprofit educational and cultural institution established in 1849. MNHS collects, preserves and tells the story of Minnesota's past through museum exhibits, libraries and collections, historic sites, educational programs and publishing. Using the power of history to transform lives, MNHS preserves our past, shares our state's stories and connects people with history. Visit us at mnhs.org.
 
The Minnesota Historical Society is supported in part by its Premier Partner: Explore Minnesota Tourism.
 
Photo captions: A few letters written by Robert Thorstensen to his wife Marion (right), and Robert and Marion Thorstensen with their daughter Kristin (left).