For immediate release
MNHS Transfers Portion of Lower Sioux Historic Site Back to the Lower Sioux Indian Community
MNHS is transferring approximately 115 acres of land, about half of the current site, from the Lower Sioux Agency historic site back to the ownership of the Lower Sioux Indian Community (LSIC). The closing date is Feb. 12, 2021. 
In 2017 the Minnesota Legislature approved the transfer of the land which is adjacent to the LSIC's tribal lands along the Minnesota River. MNHS will continue to own and manage the historic warehouse, interpretive trails, archaeological sites and the visitor center. Since 2009 the LSIC has partnered with MNHS to provide interpretive programming and to manage the site.   
"From my heart I say Pidámayaye do," said Lower Sioux Indian Community President Robert L. Larsen. "It's not the end but a very good continuation of our partnership!"
"We are so looking forward to this next chapter in our relationship," said Kent Whitworth, MNHS director and CEO. "The tribe's ownership of the land will benefit the public through a richer and more complete telling of the important history connected to this place."
The Lower Sioux Agency is a place of great historic significance. It is located on both historical and contemporary Dakota homeland along the Minnesota River Valley known as Cansa'yapi (where they marked the trees red) and is a site of key events related to the US-Dakota War of 1862.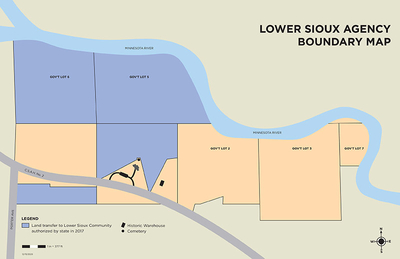 About the Minnesota Historical Society
The Minnesota Historical Society is a nonprofit educational and cultural institution established in 1849. MNHS collects, preserves and tells the story of Minnesota's past through museum exhibits, libraries and collections, historic sites, educational programs and publishing. Using the power of history to transform lives, MNHS preserves our past, shares our state's stories and connects people with history. Visit us at mnhs.org.