For immediate release
Quick facts:
Exhibit: "Downtown: Minneapolis in the 1970s," Nov. 12, 2015-April 3, 2016
Opening Reception: Nov. 12, 2015, 6-8 p.m.
Place: Mill City Museum, 704 South Second Street, Minneapolis, MN 55401
Cost: Free. Does not include museum admission of $12 adults, $10 seniors and college students, $6 children ages 5-17, free for MNHS members
Hours: Tues-Sat, 10 am-5 pm; Sun noon-5 pm
New Photography Exhibit, 'Downtown: Minneapolis in the 1970s,' Opens at Mill City Museum Nov. 12
Photos show changing urban world of Minneapolis from Nicollet Mall to Hennepin Ave
The new exhibit "Downtown: Minneapolis in the 1970s" explores the city during a time when the Foshay Tower dominated the skyline and sidewalks bustled with people before skyways overtook the landscape.
Through the camera lens of Mike Evangelist, then a 17-year-old from the suburbs, visitors can experience the vibrant and changing world of 1970s Minneapolis—from busy shoppers on Nicollet Mall and once-great movie houses to a disabled veteran selling pencils. Evangelist recently rediscovered these photos, 40 years after he first took them.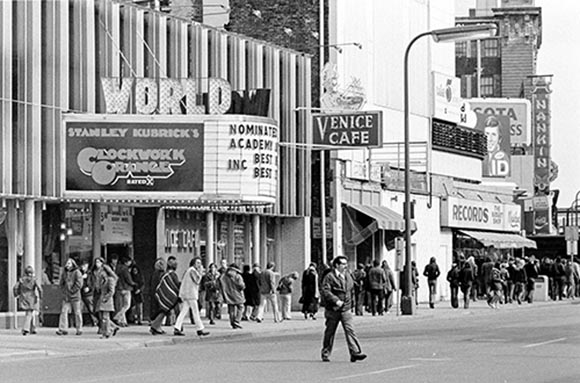 A companion book of the same name, featuring Evangelist's photos and text by Andy Sturdevant, will be available this fall (MNHS Press, Nov. 1).
Mill City Museum will celebrate the exhibit opening with a public reception on Nov. 12 from 6 to 8 p.m., with remarks from Evangelist and Sturdevant beginning at 7 p.m. A cash bar and food from D'Amico & Sons Cafe will be available for purchase.
"Downtown: Minneapolis in the 1970s" is located in the museum's Mill Commons, and is free and open to the public during regular museum hours. It will be on view Nov. 12, 2015 to April 3, 2016.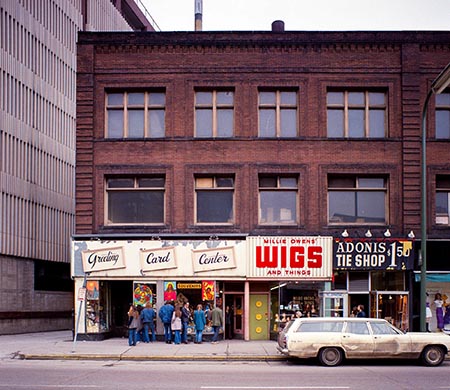 ABOUT MILL CITY MUSEUM
Built within the ruins of the Washburn A Mill, a National Historic Landmark, the award-winning Mill City Museum chronicles the flour milling industry that fueled the growth of Minneapolis. The story comes to life through the eight-story Flour Tower, Water Lab, Baking Lab and other hands-on exhibits.
The museum is located at 704 S. Second St. in Minneapolis. Hours are 10 a.m. to 5 p.m. Tuesdays through Saturdays and noon to 5 p.m. Sundays. The site is also open Mondays 10 a.m. to 5 p.m. in July and August. For more information, call 612-341-7555 or visit www.millcitymuseum.org.
The Minnesota Historical Society is a non-profit educational and cultural institution established in 1849. The Society collects, preserves and tells the story of Minnesota's past through museum exhibits, libraries and collections, historic sites, educational programs and book publishing. Using the power of history to transform lives, the Society preserves our past, shares our state's stories and connects people with history.
The Minnesota Historical Society is supported in part by its Premier Partners: Xcel Energy and Explore Minnesota Tourism.