For immediate release
Media contacts:
Jessica Kohen, jessica.kohen@mnhs.org, 651-259-3148
MNHS Announces Birch Bark and Beadwork Artists for 2015/16 Native American Artist-in-Residence Program
The Minnesota Historical Society (MNHS) announced today two recipients for the 2015/16 Native American Artist-in-Residence program. This is the second year of the program which is designed to help revive traditional forms of American Indian art. Each artist will serve a six-month paid residency to study the collections at MNHS and other institutions to aid in a better understanding of their respective art forms. They will also share their knowledge by developing community-based programming in their home communities.
The 2015/16 Awardees are: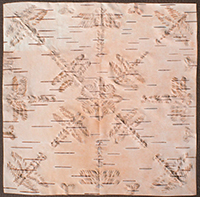 Denise Lajimodiere, from the Turtle Mountain Band of Chippewa Indians, specializes in the art of mazinibakajige or birch bark biting. This art form is made by biting down on small pieces of folded birch bark to form intricate designs. Lajimodiere plans on studying birch bark biting in the collection and discovering how they were used as patterns for beadwork and quillwork. She says of her art, "Birch bark is an extraordinary resource, used by Ojibwe people for millennia for homes, baskets, canoes and art. I have come to love the feel of the bark, and even the sound as I unfold a biting." (Pictured at left, Dazzle of Dragonflies #3.)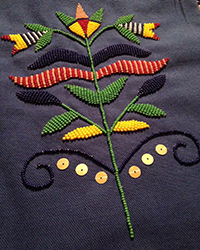 Holly Young, from the Standing Rock Sioux Tribe, focuses on Isanti/Dakota floral beadwork. The contemporary use of florals among Dakota beadwork is not as common as geometric designs so Young hopes she can bring more exposure to this artwork. She describes how Dakota people were immersed in nature which influenced their art, "The flowers, plants, and trees from these woodlands were often used for our medicines, ceremonies, and survival. As we put these designs into everyday use, we bring honor to the benefits and healing our environment provided for us. We also pass on cultural knowledge embedded in these designs." (Pictured at left, cradleboard detail.)
The 2015/16 artists-in-residence were selected based on the recommendations of a panel consisting of experts in the field of Native arts and culture. Find out more about the program and view works by previous artists-in-residence.
The Native American Artist-in-Residence program is made possible in part by a grant from the Margaret A. Cargill Foundation.
The Minnesota Historical Society is a non-profit educational and cultural institution established in 1849. MNHS collects, preserves and tells the story of Minnesota's past through museum exhibits, libraries and collections, historic sites, educational programs and book publishing. Using the power of history to transform lives, MNHS preserves our past, shares our state's stories and connects people with history.