For immediate release
Media contacts:
Jessica Kohen, jessica.kohen@mnhs.org, 651-259-3148
Madeline Riggs, madeline.riggs@childrensMN.org, 612-813-7624
Minnesota Birch Bark Artist Pat Kruse Donates Mural to Children's Hospitals and Clinics of Minnesota
Pat Kruse and his son, Gage, members of the Red Cliff Band of Ojibwe, along with the Minnesota Historical Society, donated a birch bark mural called "Nature's Beauty" to the Children's Hospitals and Clinics of Minnesota. The artwork was placed in the Family Resource Center at Children's Minnesota's St. Paul campus in December.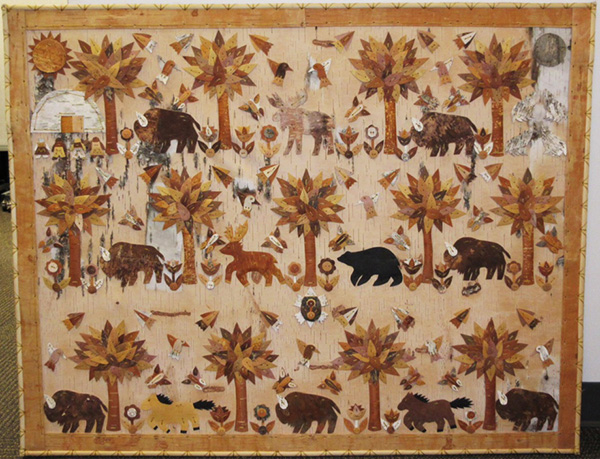 (Nature's Beauty, by Pat and Gage Kruse, 2015. In memory of Pat's family and adoptive mother, Laura May Ann Howe. Birch bark mural, 45 1/2 inches by 36 inches.)
Pat and Gage chose Children's Minnesota because a number of their family members received dedicated care there, as a result the hospital has special meaning to them.
The mural was crafted on American Indian Family Day at the Minnesota History Center, in September 2015, with help from children and families from across Minnesota.  
Pat, an artist who lives in Minnesota's Mille Lacs community, has been working with birch bark for more than 30 years to "honor the old ways and the ancestors who practiced these ways."  During his time as Native American Artist-in-Residence at the Minnesota Historical Society in 2014, he researched traditional Ojibwe baskets, designs, and patterns in the MNHS collections in order to pass on this knowledge to his son. 
The Minnesota Historical Society is a non-profit educational and cultural institution established in 1849. MNHS collects, preserves and tells the story of Minnesota's past through museum exhibits, libraries and collections, historic sites, educational programs and book publishing. Using the power of history to transform lives, MNHS preserves our past, shares our state's stories and connects people with history.
The Minnesota Historical Society is supported in part by its Premier Partners: Xcel Energy and Explore Minnesota Tourism.