For immediate release
Longtime Manager of Jeffers Petroglyphs Historic Site Retires
Tom Sanders spent 18 years developing relationships and furthering the history of this sacred site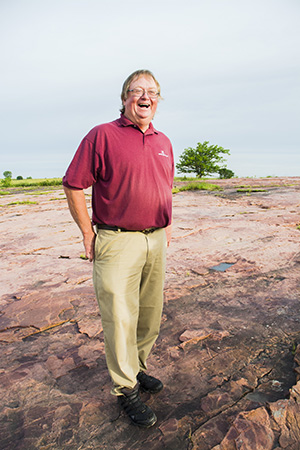 After 28 years at the Minnesota Historical Society, Tom Sanders, site manager of Jeffers Petroglyphs in Comfrey, Minnesota, has retired. Under his leadership, the site doubled in size and the number of visible carvings more than doubled.
In addition, Sanders has worked with American Indian elders from around the country to document stories to further the understanding of this ancient site. He and elders have also developed a ceremonial use policy for the site, which has served as a model for other organizations.
"There are a lot of things that are unfinished yet. It's a library of carvings; it's an encyclopedia. I've been trying to get that across," says Joe Williams, Dakota elder of the Sisseton Wahpeton Oyate in South Dakota. "I've been working with [Tom] all these years, and he did a ... good job, very considerate and very much involved."
Sanders worked with the University of Minnesota to develop 3D models of the petroglyphs, and led a recent lichen removal project that uncovered some 3,000 new carvings. He also focused on documenting and protecting other sacred American Indian sites in the area, including a recently rediscovered ancient astronomical observatory. In 2004, under Sanders' leadership, MNHS received the National Trust's Trustee Emeritus Award for Excellence in the Stewardship of Historic Sites for work at Jeffers Petroglyphs.
"It has been an inspiration to see what Tom has accomplished during his time at the Jeffers Petroglyphs," says John Crippen, director of historic sites and museums at MNHS. "His total commitment to the site, its stories and its people have left a lasting mark, and set us on a good course there for many years to come."
Sanders has more than 35 years experience working at historic sites, with 10 years as blacksmith at Historic Fort Snelling and 18 years as site manager at Jeffers Petroglyphs. From Kokomo, Indiana, he has a B.A. in anthropology from Indiana University and a master's in archaeology from the University of Minnesota.
About Jeffers Petroglyphs
Jeffers Petroglyphs is located at 27160 County Road 2, Comfrey, Minnesota. Jeffers Petroglyphs is one of 26 Minnesota Historical Society sites and museums located statewide. Find out more at www.mnhs.org/jefferspetroglyphs.
MNHS is a non-profit educational and cultural institution established in 1849. MNHS collects, preserves and tells the story of Minnesota's past through museum exhibits, libraries and collections, historic sites, educational programs and book publishing. Using the power of history to transform lives, MNHS preserves our past, shares our state's stories and connects people with history.
The Minnesota Historical Society is supported in part by its Premier Partners: Xcel Energy and Explore Minnesota Tourism.