For immediate release
WW1 America: Mural Project
UPDATED A living work of art is how to best describe the WW1 America Mural Project. Working on a huge canvas, 8 feet tall by 30 feet long, Minnesota artist David Geister will complete a mural in front of visitors during the run of the new exhibit "WW1 America" April 8-Nov. 11, 2017, at the Minnesota History Center. In addition, the public is invited to vote on the position of 100 key Americans selected for the mural.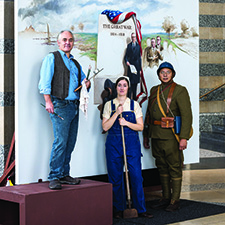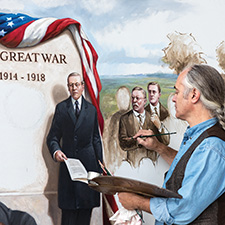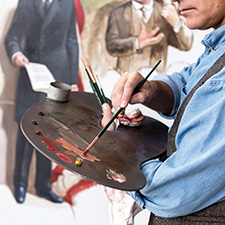 Voting is available now and will continue through the opening of the exhibit in April. The individuals who receive the most nominations will be most prominently featured in the mural.
Visitors can see the artist at work on:
April 8, 1-4 p.m.
April 11, 6-8 p.m.
April 22, 1-4 p.m.
April 25, 6-8 p.m.
The mural depicts 100 historical figures who were central to the making of post-WW1 America. It is modeled after the "Pantheon de la Guerre," which, when it was completed in 1918 in Paris, was believed to be the world's largest painting. The "Pantheon" featured portraits of around 6,000 wartime figures from France and its allies. A portion of the "Pantheon" mural is on view at the National World War I Museum and Memorial in Kansas City.
After the close of the "WW1 America" exhibit, the WW1 America Mural will travel to the National World War I Museum and Memorial in Kansas City where it will be on display in fall 2017 before returning to MNHS collections.