For immediate release
Oliver Kelley Farm Program Spaces
At the revitalized Oliver Kelley Farm, visitors can now explore agriculture from the 1860s to today in three spaces: the Visitor Center, Farm Lab and Historic Farmstead.
VISITOR CENTER 

The place where every visitor, from families to field trip students, will begin their visit, including classrooms with modern technology, a learning kitchen, community meeting room, museum store and indoor exhibits.
Efforts have been made to make the building sustainable and environmentally friendly, and Gold LEED certification is expected. Highlights of the project include geothermal heating, construction material sourced from within 500 miles, and all wood sustainably grown, harvested and transported.
Learning Kitchen
A state-of-the-art teaching kitchen to get hands-on experience on how today's food gets from farm to table in demonstrations and special workshops.
---

FARM LAB
At the Farm Lab, guests can engage with a variety of outdoor spaces to discover Minnesota's modern agriculture through livestock, gardening, crops, machinery and more.
The Farm Lab includes:
Farm Lab Garden
Explore a wide variety of fruits and vegetables that grow in Minnesota today, like beans, tomatoes and squash, and discover new hybrids and varieties that have developed since Kelley's time. This space will also showcase different theme gardens annually, beginning with a World War I-era garden in 2017.
Farm Lab Crops
Explore nearly 10 acres of crops, such as sugar beets, corn and soybeans, and learn about their roles in modern Minnesota agriculture.
Farm Lab Barn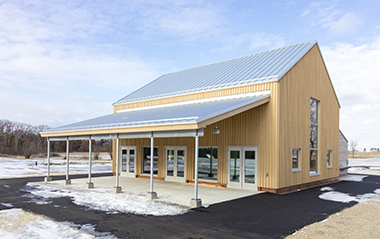 While heritage breed animals—those that Kelley raised in the 1860s—call the Historic Farmstead home, here visitors can learn about modern-day farm animals.
Food Trail
Follow this outdoor exhibit trail and engage with five interactive stations on protein, dairy, vegetables, fruit and grain.
Kelley Annex (pictured on left) 
A flexible, four-season space that can be used for everything from a field trip lunchroom to programming to rental use.
---
HISTORIC FARMSTEAD
Visitors can learn about Oliver Kelley's role as an agricultural innovator and explore the Kelleys' lives on this 1860s working farm.
Historic Farmhouse
Learn about the Kelleys' 1876 home, try 19th century chores and venture down into the root cellar, the oldest original structure on the farm.
Barn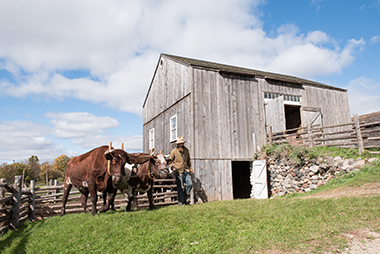 Explore upstairs in the barn to find the grain and hay that will feed animals year-round, then head downstairs to see where the cattle and horses eat.
Kitchen Garden
Help tend vegetables, fruit and flowers that were grown over 150 years ago on this one-acre garden.
Fields
Discover historic crops that the Kelleys cultivated in the 1860s, like sorghum, corn and oats.
Animal Pens
Meet heritage breeds of animals that the Kelleys raised, including Berkshire hogs and Southdown sheep.