For immediate release
Oliver Kelley Farm Field Trips
In conjunction with this revitalization project, the Oliver Kelley Farm has developed four new multidisciplinary lessons for the school field trip audience in grades 3-12, increasing the total number of lessons offered to nine. The new lessons are tied to Minnesota state standards in social studies and STEM, and hands-on learning and expanded programming enable students to experience the broader story of agriculture, past and present.
The new field trip offerings are:
Agriculture is Everywhere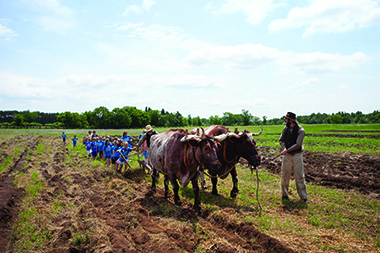 Discover the myriad ways that agriculture touches all aspects of our lives. Students examine plants, animals and food produced in Minnesota as they map out the evolution of farms.
Northern Lights - Growing Minnesota
This curriculum-based program focuses on chapters 10-20 of MNHS' "Northern Lights" textbook, and uses the thread of agriculture in Minnesota to explore technology, the environment and society as it has changed over time.
Minnesota Feeds the World
By 2050, it is projected that there will be at least nine billion people on earth. What role will Minnesota take in helping to make sure there is enough food? Through critical thinking and collaboration, students explore possible solutions to real-world problems related to feeding the world.
Farm to You
Agriculture plays a role in every aspect of our daily lives from basics like food, clothing and shelter to more complex elements such as healthcare, transportation and entertainment. Students learn that a career in agriculture can mean much more than farming.