For immediate release
Oliver Kelley Farm Brief History
The Oliver Kelley Farm is a National Historic Landmark located along the Mississippi River in Elk River. It is the homestead of Oliver Kelley, founder of the first successful national farming organization, the Grange.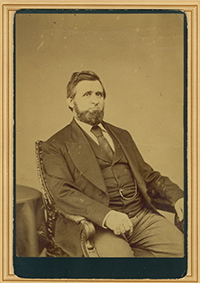 Oliver Hudson Kelley
Born in Boston, Kelley migrated west in 1849 at age 21. Kelley knew very little about farming when he staked his claim in the new town of Itasca on the Mississippi River, near present-day Elk River. Uncommon for the time, Kelley learned how to farm by reading agriculture journals, which often encouraged innovative farming techniques. Kelley's farm quickly became a local showplace, and he encouraged other farmers to experiment with advanced methods and to share information.
While still farming, Kelley helped found the Territorial Agricultural Society in 1853, now the State Agricultural Society, the same group that puts on the Minnesota State Fair each August. He also helped found the Minnesota Fruit Growers Association in 1866, now the Minnesota State Horticultural Society.
The Grange
In 1864 Kelley took a position in Washington, D.C., working for the federal Bureau of Agriculture. Through his job, he advanced his idea of bringing farmers and their families together to share information to improve their communities. In 1867 along with seven others, he established the National Grange of the Order of the Patrons of Husbandry, better known as the Grange. The Grange became the first successful national farming organization. It was also the first national organization to include women as full voting members from its inception in 1867. The organization still exists today and celebrates the 150th anniversary of its founding in 2017.
The Later Years
Kelley went back and forth between Washington, D.C., and Minnesota for many years. The farm remained in the Kelley family until 1901. Oliver Kelley died in Washington, D.C., in 1913.
In 1935, the Grange purchased the farm and donated it to the Minnesota Historical Society in 1961 to preserve and tell the story of Oliver Kelley, Minnesota agriculture and the Grange. The farm has operated as a living history farm focused on 1860s agriculture since 1981.