For immediate release
Oliver Kelley Farm Offers Great Visuals During Grand Opening Celebration May 6 & 7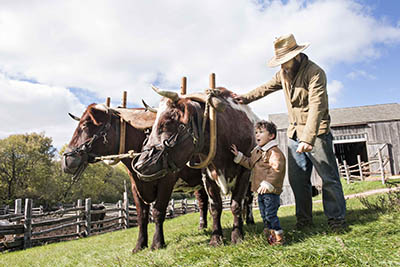 The Oliver Kelley Farm will celebrate its newest facilities, expanded programming and more with a weekend full of activities May 6 & 7, 10 a.m.-5 p.m. 
The weekend includes live musical performances, favorite farm animals, chef demos, an antique steam engine tractor and plenty of time for kids to get dirty outside during spring on the farm. 
Media are welcome to visit during the Grand Opening Celebration and speak with staff and visitors. Visit the new Oliver Kelley Farm website for the latest updates on the Grand Opening Celebration and other events and programming at the historic site.
Grand Opening Celebration Schedule 
(All activities take place both Saturday and Sunday, except where noted)
Ongoing, 10 a.m.-5 p.m.​
Free Kelley Farm bandannas, Visitor Center
Make-and-take seed planting, Visitor Center
Make-and-taste vinaigrette activity, Visitor Center
Button-making, Deal Classroom in Visitor Center
Celebratory carrot cake, Kelley Annex
11:15 a.m. & 1:30 p.m.
Live music on the Visitor Center patio
Saturday: Roe Family Singers
Sunday: The OK Factor
10:30 a.m., Noon, 1:30 p.m. & 3 p.m.
Historical games, Historic Farmstead yard
11 a.m., 12:30, 2 & 3:30 p.m.
Steam engine tractor fired up, near Farm Lab Crops
11:30 a.m., 12:30 & 1:30 p.m.
Meet the History Hound, Kelley Annex
1 & 2:30 p.m.
Chef demos, Q&A and author book signing, Learning Kitchen
3 p.m.
Where Do I Get My Food? dialogue, Visitor Center
About the Oliver Kelley Farm
Oliver Kelley and his family began farming on the banks of the Mississippi in 1850. He went on to found the first successful national farming organization, the National Grange of the Order of the Patrons of Husbandry, better known as the Grange, in 1867. Today the Oliver Kelley Farm is recognized as a National Historic Landmark and "the birthplace of organized agriculture in America." At the site, visitors can explore agricultural history from the 1860s to modern day through machinery, cropland, animals and more.
The farm is located at 15788 Kelley Farm Rd., 2.5 miles southeast of downtown Elk River on U.S. Hwy. 10. For more information, call 763-441-6896 or visit www.mnhs.org/kelleyfarm.
The Minnesota Historical Society is a non-profit educational and cultural institution established in 1849. MNHS collects, preserves and tells the story of Minnesota's past through museum exhibits, libraries and collections, historic sites, educational programs and book publishing. Using the power of history to transform lives, MNHS preserves our past, shares our state's stories and connects people with history.
The Minnesota Historical Society is supported in part by its Premier Partners: Xcel Energy and Explore Minnesota Tourism.