For immediate release
Pine Ridge, South Dakota and Odanah, Wisconsin Artists Selected for 2017 Native American Artist-in-Residence Program
The Minnesota Historical Society (MNHS) announced today two recipients for the 2017 Native American Artist-in-Residence program. This is the third year of the program which is designed to help revitalize traditional forms of American Indian art. Each artist will serve a six-month paid residency to study the collections at MNHS and other institutions to aid in a better understanding of their respective art forms. They will also share this knowledge by developing community-based programming in their home communities.
The 2017 awardees are:
Randilynn Boucher, a Dakota and Navajo beadwork and textile artist who resides in Pine Ridge, South Dakota will focus on items related to Dakota/Lakota girls and women. Boucher plans to study collection items and visit with elders to help preserve the knowledge of objects related to womanhood, such as cradleboards, bonnets, knife sheaths and bags. Boucher feels that "making the connection between the material art and the traditional knowledge and songs [they] become more meaningful and relevant." She plans to bring what she learns from collections and elders to the community through workshops and apprenticeships.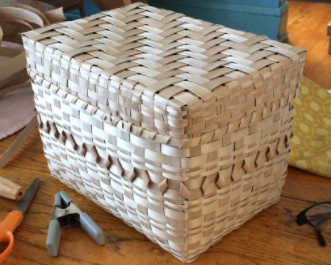 April Stone is an Ojibwe basket maker who resides in Odanah, Wisconsin, and specializes in ash baskets. Stone hopes to study basket construction from northern Wisconsin, the Great Lakes region, and further east, where indigenous basketmaking is also experiencing a resurgence. Stone states that, "People might know about [ash baskets] but they still don't know how to harvest, prep, weave or finish." She plans to hold workshops in communities in Wisconsin to share the knowledge of her craft.

In addition, this year the program also awarded two Encouragement Grants which will support traditional artists to continue with their cultural arts and research. The grants consist of a stipend and a paid research visit to MNHS collections. The 2017 Encouragement Grant awardees are Molina Parker, Oglala Lakota, and Jeremy Red Eagle, Sisseton Wahpeton Oyate.
The 2017 artists-in-residence were selected based on the recommendations of a panel consisting of experts in the field of Native arts and culture. Find out more about the program and view works by previous artists-in-residence.
This fall, the Minnesota History Center will open an exhibit showcasing the work of the five previous Native American artists-in-residence. The exhibit will open in late September 2017 and run through early April 2018. Look for more details to come.  
The Native American Artist-in-Residence program is made possible in part by a grant from the Margaret A. Cargill Foundation.
About the Minnesota Historical Society
The Minnesota Historical Society is a non-profit educational and cultural institution established in 1849. MNHS collects, preserves and tells the story of Minnesota's past through museum exhibits, libraries and collections, historic sites, educational programs and book publishing. Using the power of history to transform lives, MNHS preserves our past, shares our state's stories and connects people with history.