Attack on New Ulm: One Painting, Many Perspectives
On view September 16, 2017, through January 14, 2018 | Free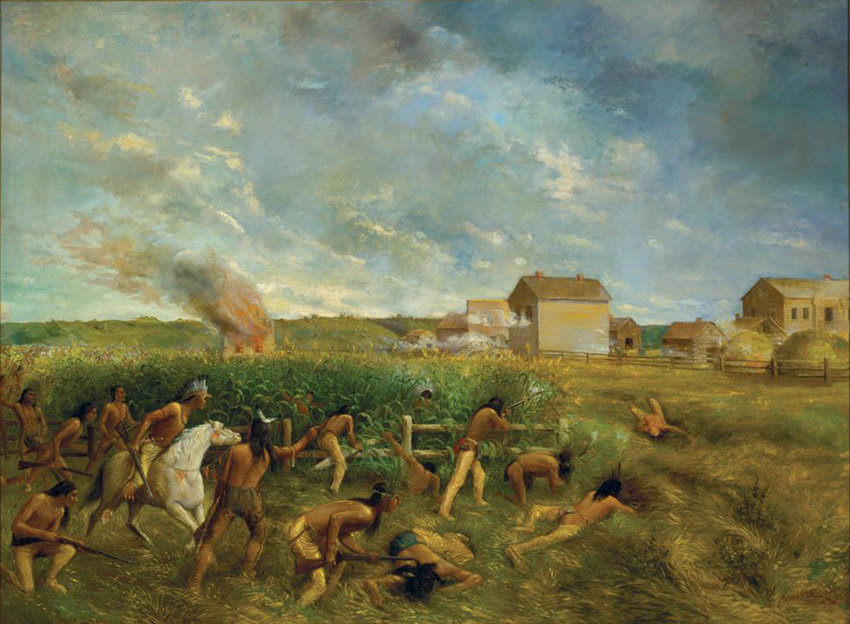 Anton Gag's 1904 painting Attack on New Ulm hung in the Minnesota State Capitol for nearly a century before it was removed for restoration and cleaning during the building's recent renovation. It is one of a number of pieces of art depicting American Indian subjects that many have found troubling, and questions have been raised about whether the painting should be returned to a building that is meant to represent all Minnesotans.
By exhibiting Attack on New Ulm in a small gallery, the Minnesota Historical Society is inviting people to see the work up close and to consider the different ways people interpret the image. We are asking a simple question: Does the painting belong in the Minnesota State Capitol? If it does not belong in the Capitol, where should it be placed? We hope gallery visitors will read the exhibit panels and consider whether the painting has educational value or if it remains too divisive an image to hang in a building that is an active center of government for all Minnesotans.
About the painting
On August 19 and 23, 1862, Dakota warriors and settlers fought each other in the German settlement of New Ulm, Minnesota. These were key battles in the six-week U.S.-Dakota War of 1862 fought by Dakota warriors, settlers, and soldiers.
More than 40 years later, Anton Gag interpreted this history through his painting. The title he chose reflects white Minnesotans' long-held views of this event. His work overlooks both the causes and the long-term effects of what some people have called the "Sioux Outbreak," "Uprising," or "Conflict."
Anton Gag was born in Bohemia in 1858 or 1859 and came to the United States in 1873. He eventually settled in New Ulm where he ran a photography studio and made oil paintings. In 1904, Gag completed Attack on New Ulm; the painting was given to the State Capitol in 1923. Gag died in New Ulm at the age of 49 in 1908.
Historical background
By the mid-1800s, years of unjust treaty practices and broken government promises had devastated Dakota families. After the Treaties of 1851 opened up Dakota land to non-Native settlement, a rush of newcomers arrived in the region, and Dakota people were confined on a strip of land too small to support them. When annuities and food promised by the federal government failed to arrive, Dakota warriors fought back, fed up with watching their families go hungry.
The U.S.-Dakota War of 1862 affected all sides. An unknown number of Dakota lives were lost. Hundreds of settlers were killed. Thousands lost loved ones and homes. But the war's aftermath was far harsher for Dakota people. Thirty-eight Dakota warriors were hanged in Mankato on December 26, 1862, the largest mass execution in American history. Two others were hanged at Fort Snelling. Thousands of Dakota families were imprisoned, and others forced off their ancestral lands. Some Ho-Chunk people, who did not fight in the war, were also forced off their lands and imprisoned at Crow Creek, South Dakota, along with non-combatant Dakota women, children, and elders.
For additional background and resources on the complex history of the U.S.-Dakota War, visit www.usdakotawar.org. 
Attack on New Ulm was not Gag's first effort to represent the events of the war on canvas. In 1892, Gag and two other artists, Christian Heller and Alexander Schwendinger, created a large, scrolling panorama depicting 11 scenes from the U.S.-Dakota War. The next year, another of Gag's paintings on the subject, The First Battle of New Ulm, was exhibited at the 1893 World's Columbian Exposition in Chicago. Gag interviewed survivors of the war as part of his effort to depict the events of August 19 and 23, 1862, accurately.
Today's perspectives
Anton Gag attempted to capture a dramatic moment in time during the U.S.-Dakota War, but modern viewers see a more complicated story. Gag's scene provides no context for the events that led the Dakota to attack. Though he attempted to portray the events accurately, his perspective reflected the narrow lens of his own culture and experience. Modern viewers are confronted with the difficulty of assessing this complicated image. Does it document the battle or gloss over painful history? Can the painting be used today to educate people about our shared past in Minnesota?
MNHS staff interviewed a range of people with various perspectives on the painting:  Minnesota state legislators, historians, experts on western art, members of Minnesota's Native American communities, and descendants of both the Dakota and the settlers involved in the U.S.-Dakota War of 1862. They reflected on the meaning of the painting today. Their words illuminate the challenge of viewing artistic representations of difficult subjects through the lens of our own time.
Transcript | Watch video Perspectives on Attack on New Ulm on YouTube
We welcome your comments
This exhibit is open daily from September 16, 2017, through January 14, 2018. Please leave your thoughts about the painting in the notebooks located in the art gallery. We ask that your comments be respectful and appropriate for audiences of all ages.