Calling high school students with musical instrument skills: Now accepting applications for Fifes and Drums. Apply today!
Daily Experience
Here's what you can see, do, and experience during regular hours at the historic fort.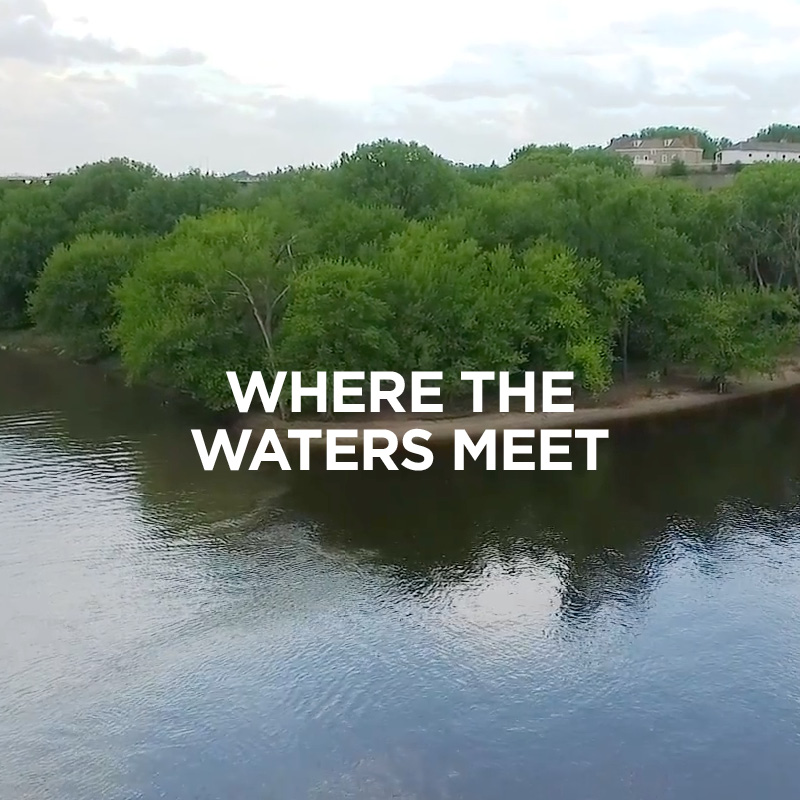 Orientation film
All day
Watch the short film "Where the Waters Meet: Historic Fort Snelling at Bdote" for an introduction to the history of this area as Dakota homeland and as the site of the historic fort built above the confluence of the rivers.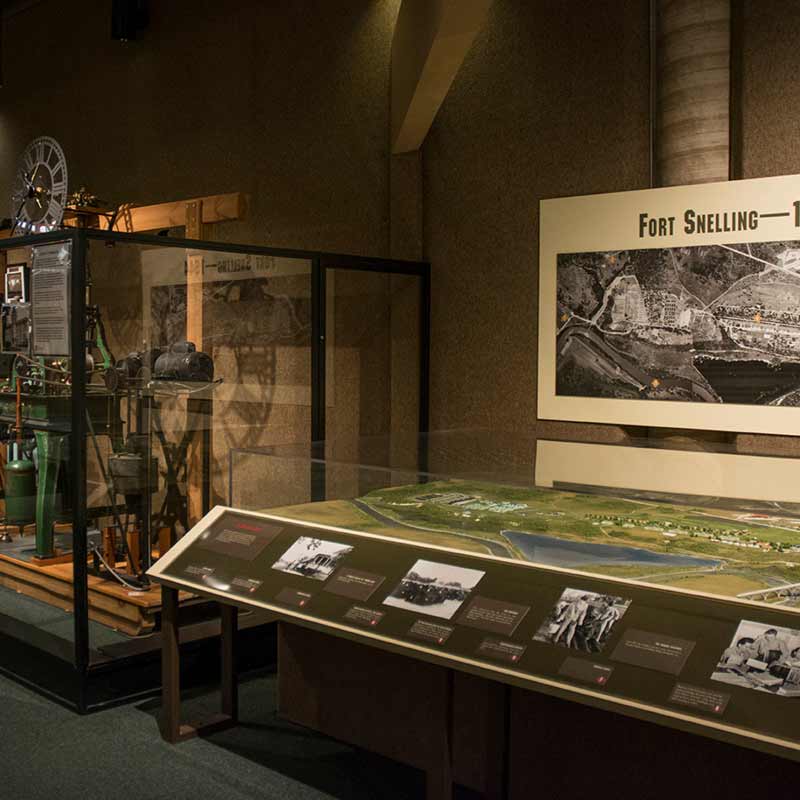 Exhibits
All day
See free exhibits in the visitor center that will enhance your perspective about this site's history, and why it is still relevant today.
Self-guided tours
All day
Explore the many buildings of the historic fort, inside and out, at your own pace.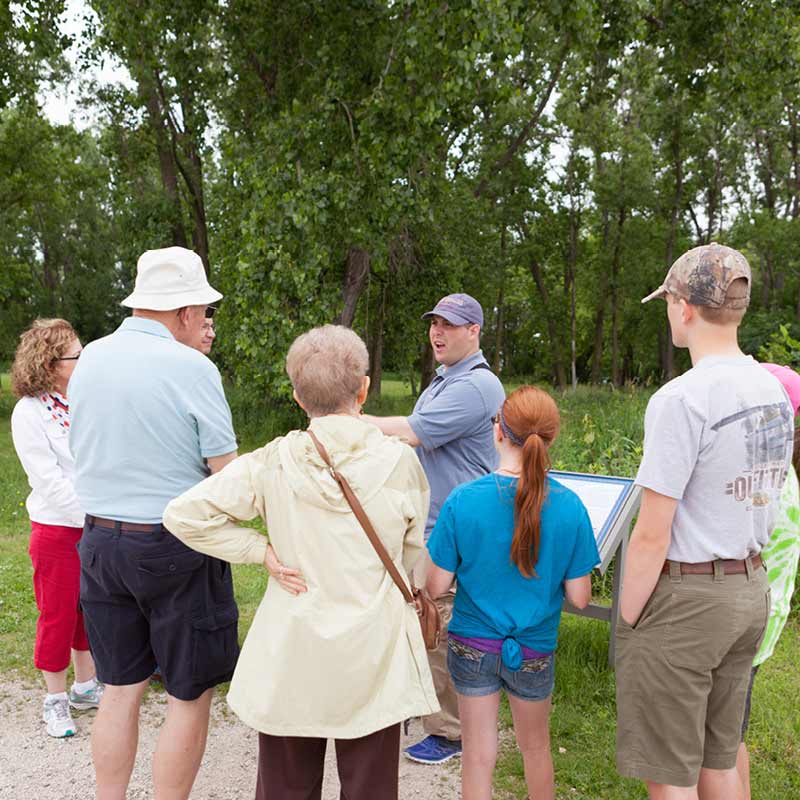 Guided theme tours
Landscape of Bdote (30 minutes) — Learn about the importance of the site's location in the Dakota worldview, culture, and communities.
Saturdays at 11 am and 2 pm
Fort Snelling and the US–Dakota War of 1862 (30 minutes) — Explore the role played by Fort Snelling in the US-Dakota War and its aftermath, and see locations that connect to the conflict.
Saturdays at 1 pm and 4 pm
Activity stations
All day
Explore themes and topics in-depth at interpretive stations located throughout the historic site. Interpreters will engage you in activities and conversations about Dakota homeland, immigration, soldiers, race, healing, and more — helping you draw connections between past and present.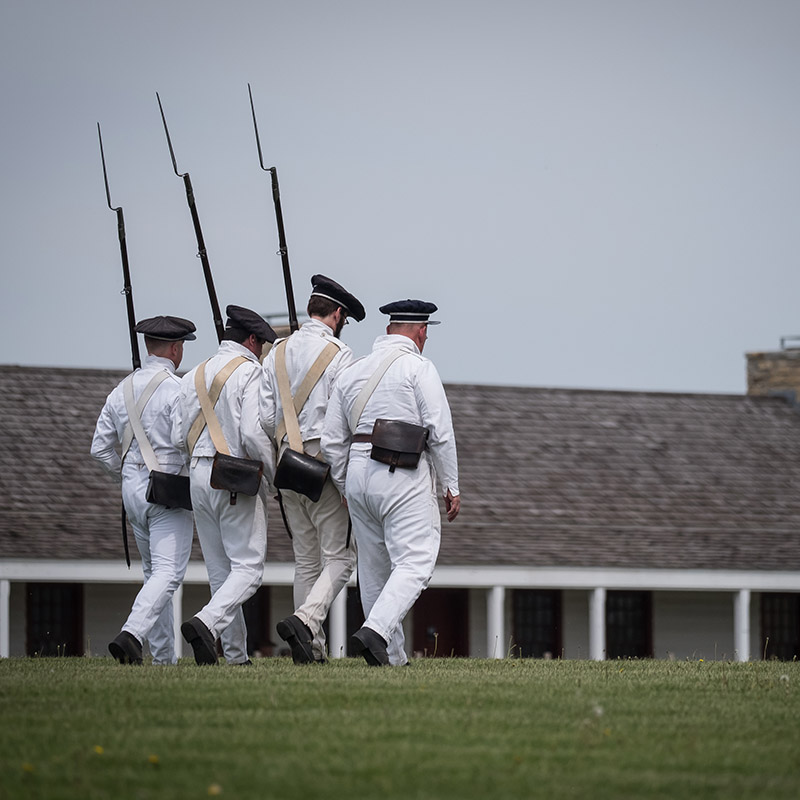 Demonstrations
Watch scheduled and ongoing demonstrations by costumed and non-costumed interpreters. Some of the demos invite you to try out activities for yourself!
All day:
Hearth cooking and rotating demos on historic trades: blacksmithing, woodworking, wood-turning, bread-baking, and leather-working.
At specific times (see schedule posted in the visitor center):
Military tactics (musket/cannon), women's history, baseball/rounders, slavery and civil rights, the Military Intelligence Service Language School, children's games, medical history, and laundry technology.
Demonstration schedules
Demonstrations last approximately 20 minutes.
Saturdays

| Time | Activity |
| --- | --- |
| 10:30 am | WWII Language Lesson (School) / Women & Washboards presentation (Married Quarters) |
| 11:00 am | Baseball Game (Parade Ground) |
| 11:30 am | Hear Her Stories presentation (Officers' Quarters) / Children's Games (Parade Ground) |
| Noon | School of the Soldier - includes musket & cannon firing (Parade Ground) |
| 1:00 pm | Shinny Game (Parade Ground) |
| 1:30 pm | Seeking Freedom presentation (Officers' Quarters) / Women & Washboards presentation (Married Quarters) |
| 2:00 pm | Baseball Game (Parade Ground) |
| 2:30 pm | Knitting, Moving, Healing presentation (Hospital) / Children's Games (Parade Ground) |
| 3:00 pm | School of the Soldier - includes musket & cannon firing (Parade Ground) |
| 4:00 pm | Shinny Game (Parade Ground) |
| 4:30 pm | WWII Language Lesson (School) / Women & Washboards presentation (Married Quarters) |