Fire Tower and Forest Service Cabin
Learn about the work of protecting and managing woodland resources directly from the forest patrol. You'll discover how forest fires start and the role that fire plays in the health of the forest. Keep watch over the forest by climbing 100 feet to the cab where you'll have an unobstructed, 360 degree view. 
At the peak of Minnesota logging, catastrophic forest fires fueled by logging operations swept the landscape, leaving dead branches called "slash" and devastating many northern communities. Seeing a need to begin conservation measures and fight the growing danger of forest fires, the state created the Minnesota Forest Service, a forerunner to the Department of Natural Resources.
In 1905, management of US forests transferred to the newly established United States Forest Service (USFS), ushering in a period of increased national and local resources for the management and "conservation" of forests.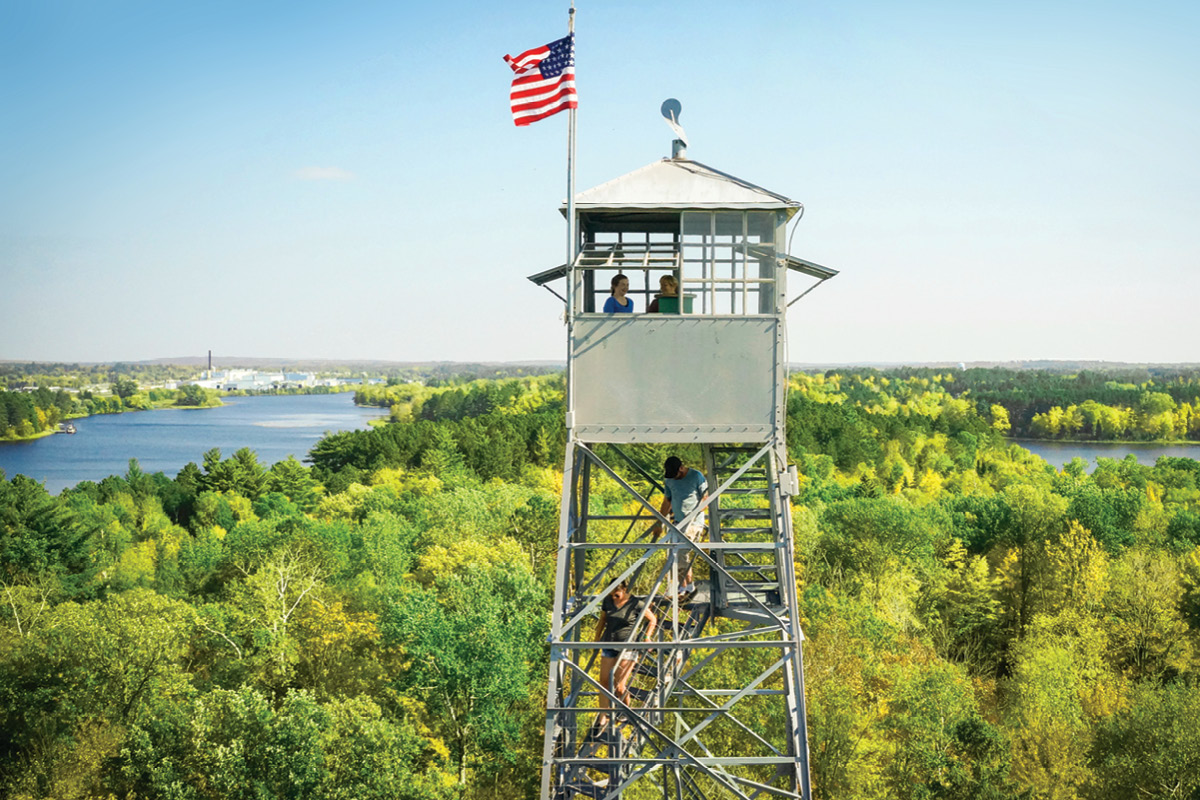 Minnesota Forest Service Cabin
The cabin at the Minnesota Forest Service site is a reproduction cabin, patterned after a 1930s forest service design. Cabins like this were used to house patrolmen and fire fighting crews. A tool cache shed is located adjacent to the cabin.
Small utilitarian warehouses, water towers, latrines, and cabins were built in national and state forests with labor and funding from the Civilian Conservation Corps (CCC).
Fire Tower
The Forest History Center's fire tower was built in 1934 by the Civilian Conservation Corps. It was moved here from its original location in Bena, and is the only true historic structure on the site (others, like the logging camp and wanigan, are replicas). On a clear day, you can see up to 12 miles away!
Before you climb...
The fire tower is open during regular business hours.
The fire tower is 100 feet or ten stories tall, with 126 steps, requiring a significant physical effort to climb.
Minimum age for climbing is age 6 and proper footwear must be worn — no flip-flops, high heels, or bare feet.
The fire tower is open during regular business hours.
No more than four people are allowed to climb the fire tower at a time.
The fire tower will be closed during thunderstorms, strong rains, and high winds.
For safety, the fire tower is closed November through May.