Here's what you can see, do, and experience during regular hours at the historic fort.
November 3, 2022 – April 8, 2023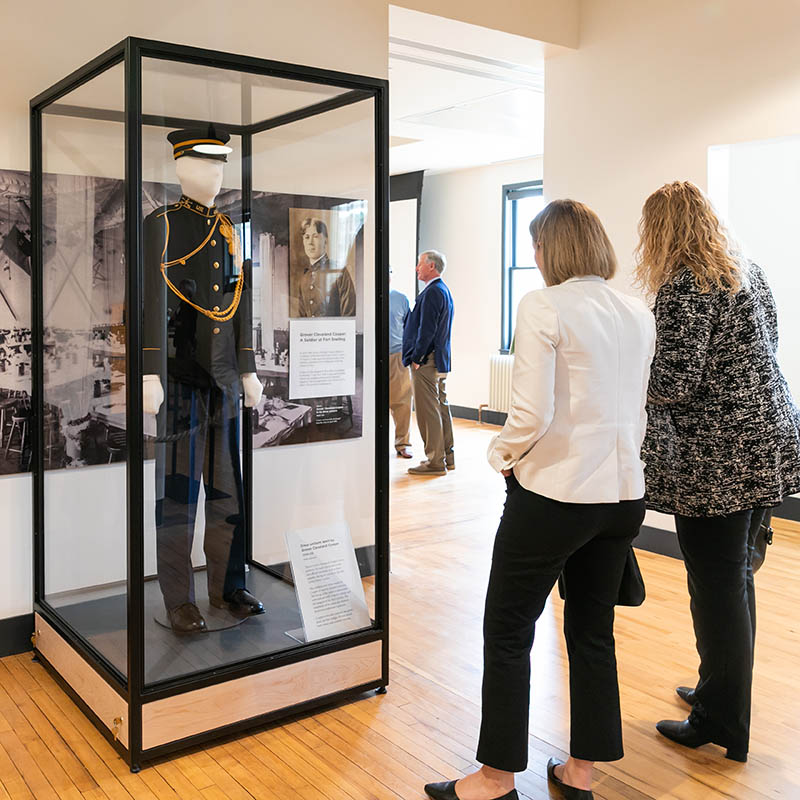 Explore the visitor center
Historic Fort Snelling's visitor center is open this winter! Join us Thursday through Saturday, 10:00 am to 4:00 pm, November 3, 2022–April 8, 2023, in the restored 1905 cavalry barracks.
Hear about the Japanese Americans who served during WWII as part of the Military Intelligence Service Language School and lived in this very building and learn some Japanese yourself.
Help pack a bedroll for the 25th Infantry, African American soldiers who served at Fort Snelling in the 1880s.
Learn about Bdote, the Dakota homeland where the fort is built and the fur trade business that brought the army here.
Discover how doctors could "look" inside the human body before x-ray technology in the building that was once an outpatient clinic.
Take the From the Windows Tour from the comfort of the visitor center which talks about the past uses of the 118-year old building as well as what soldiers would have seen from the windows throughout Fort Snelling's history. The tour is offered at 10:30 am, 12:30 pm, and 2:30pm.
Watch the Where the Waters Meet: Stories of Historic Fort Snelling orientation film.
While you are here, enjoy beverages, snacks and sandwiches available for purchase in the museum store.
Admission is $5/person; Free for members, veterans, and Native Americans + 5.
Beginning January 5, 2023
River Matters!
Join one of our staff as we walk a short distance to the overlook to talk about the geological forces that created Mni Sota Wakpa (Minnesota) and Haha Wakpa (Mississippi) rivers and the changes over time.
View the river gorge while learning how the rivers influenced the uses of the land. Tours are offered at 11:00 am and 1:00 pm and start at the fort's visitor center. Please wear appropriate clothing and footwear.
This program is included as part of the $5/person admission fee.
Offered Thursday–Saturday beginning January 5, 2023.