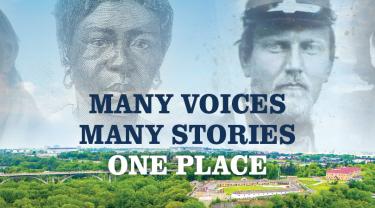 Many Voices, Many Stories, One Place
Now on view at the Historic Fort Snelling
Ticket price includes admission to all Historic Fort Snelling exhibits. MNHS Members get in free.
Experience the converging histories of Historic Fort Snelling located at Bdote in this new immersive exhibit told through real people's perspectives at one of the most pivotal sites in Minnesota history.
As you journey through more than 10,000 years, witness the site's complex history unfold through diverse perspectives. 

Encounter the stories of dozens of individuals whose lives played out at various times, including Dakota and Ojibwe people, Japanese-Americans, immigrants, enslaved African American people, soldiers, and fur traders.

Learn about the sacred Dakota homeland at the confluence of the Mni Sota Wakpa (Minnesota) and Haha Wakpa (Mississippi Rivers), the military fort that played a pivotal role in our nation's history, and the site's importance in the formation of our state.
Image

Image

Image

Image

Image