Historic Fort Snelling Revitalization Project
Historic Fort Snelling Revitalization Update
In June 2020, construction for the Historic Fort Snelling Revitalization Project began. Over the summer and into the fall, site work included the demolition of the non-historic visitor center, grading and preparation for the new pathways along the bluff, and utility work. Archaeological construction monitors were onsite regularly ensuring that anything encountered during construction was treated appropriately.
Work to rehabilitate Building 18 into the new Plank Museum & Visitor Center has been progressing according to plan. Interior demolition and hazardous material abatement is complete and the rehabilitation of historic wood floors and wood windows is underway. In the coming weeks and months, windows will be reinstalled, new walls will go up, new stair structures will be built, and existing plaster walls and ceiling will be repaired.
The $34.5 million project includes $19.5 million appropriated by the state, plus $15 million pledged in private dollars. MNHS is grateful for the continued support from the governor and legislature, educators, veterans, community partners, MNHS members and private citizens statewide.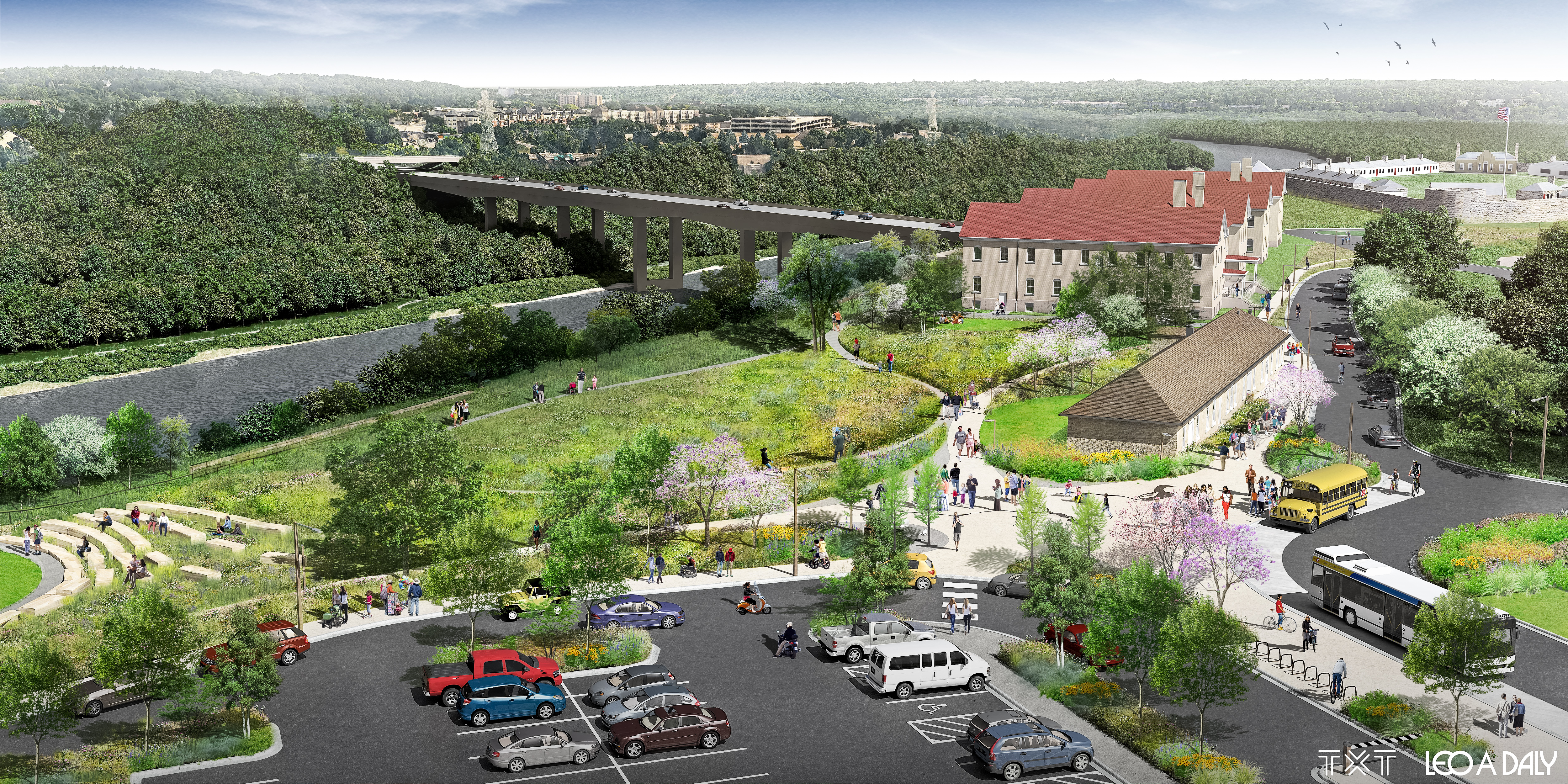 Vision
Many stories—still untold
The vision of Historic Fort Snelling is to inspire a better future by providing a place to learn, share and connect to all of the complex stories that shape history in Minnesota.
With a human history 10,000 years in the making, the area around Fort Snelling, known as Bdote by the Dakota, is the site of essential stories of our shared past — some well-known, others known by very few.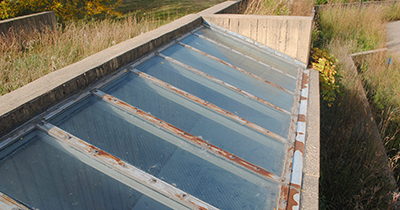 The Need
Historic Fort Snelling's buildings and grounds are not serving the public well. The current visitor center is dilapidated and the dramatic blufftop views of the Mississippi and Minnesota Rivers' confluence are hidden.
Now is a once-in-a-lifetime opportunity to connect Historic Fort Snelling and its stories in meaningful ways with increasingly diverse families, schoolchildren, and tourists worldwide.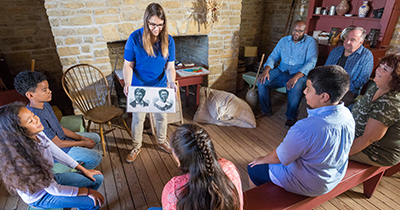 Revitalization
The revised revitalization project includes removal of the current, failing, visitor center; creating a dynamic new visitor center with a 4,000-square-foot exhibit inside a rehabilitated 1904 cavalry barracks; making updates to the landscape to provide opportunities for outdoor learning and for reflection and commemoration; improving parking, wayfinding and access; and rolling out an interpretive plan developed with community partners that expands stories of the military, Dakota, African-Americans, Japanese-Americans, women and more.
More about this project
The Minnesota Historical Society would like to express our sincere appreciation to our dedicated community partners who have participated as members of the Dakota Community Council (DCC) since June of 2017. Members of this working group have provided much needed guidance and expertise to help MNHS expand the interpretation of this site's complex history, and includes the following:
Carly Bad Heart Bull
Syd Beane
Dustin Beaulieu
Fern Cloud
Lonna Hunter
Franky Jackson
Teresa Kitto-Remick
Darlene St. Clair
Cheyanne St. John
Tamara St. John
Gabrielle Tateyuskanskan
James (JB) Weston
Sarah Weston
Noah White
Diane Wilson
Yvonne Wynde
Visit
Experience Historic Fort Snelling this summer.