New York-to-Paris Flight
The 1920s saw major advancements in the field of aviation. Airplanes were now capable of flying longer distances than ever before. Since Charles Lindbergh was living in the bustling aviation community of St. Louis, he was able to keep track of the advancements being made throughout the industry. It was while living in St. Louis that he learned of the $25,000 Orteig Prize, which helped encourage many of these advancements.
Orteig Prize
In May 1919, French-born American businessman, Raymond Orteig, announced, "As a stimulus to the courageous aviators, I desire to offer ... a prize of $25,000 to the first aviator of any Allied country crossing the Atlantic in one flight, from Paris to New York or New York to Paris, all other details in your care." The Orteig Prize remained unreachable until the mid-1920s when advances in aviation made a nonstop flight of this length possible.
On Sep 15, 1926, French flying ace René Fonck and his crew attempted to take off from Roosevelt Field in New York, only to crash at the end of the runway, killing two of the four crew members. Upon reading about Fonck's failure, Lindbergh began to plan his own flight to Paris, figuring that "a nonstop flight between New York and Paris would be less hazardous than flying mail for a single winter."
Lindbergh discussed his idea with St. Louis businessmen and aviation supporters who pooled their resources to provide Lindbergh with the funding to purchase an airplane that could make the transatlantic flight.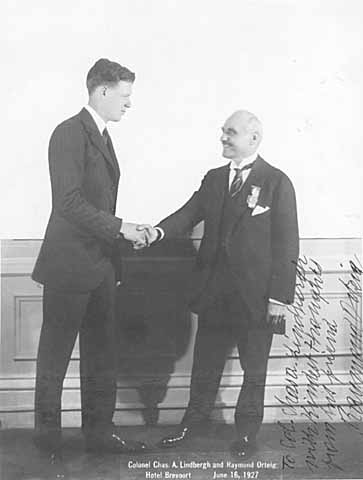 Charles A. Lindbergh with Raymond Orteig. Photo courtesy Yale University Library.
Ryan NYP "Spirit of St. Louis"
After several inquiries with other airplane manufacturers, Lindbergh decided to work with Ryan Aeronautical Company in San Diego, California. Ryan quoted Lindbergh and his backers $10,580 to build a single-engine monoplane powered by a Wright Whirlwind J-5 engine in 60 days.
From the start, Lindbergh wanted to make the flight by himself because of his concern about overloading the airplane. Lindbergh told Ryan chief engineer Donald Hall that "I'd rather have extra gasoline than an extra man."
The two men worked together to design every aspect of the airplane which would become known as Spirit of St. Louis, named in honor of the men who provided the funding for the project. Lindbergh felt that they should "give first consideration to efficiency in flight; second, to protection in a crack-up; third, to pilot comfort."
It was with safety in mind that Lindbergh and Hall moved the gasoline tank in front the pilot's seat, despite the fact that it blocked all of Lindbergh's forward sight. A periscope was installed to allow him to have limited forward vision during the few times during the flight in which it was needed. Everything that was too heavy was left behind, including a parachute and radio.
Lindbergh also studied charts and maps in order to plan out the Great Circle Route he would take from New York to Paris. Flying over land, he had always relied on Rand McNally railroad maps. Flying over the Atlantic would be a new challenge in which he would have to rely on "dead reckoning," or navigating with a compass and other instruments only and not maps or landmarks.
On Apr 25, 1927, the plane was completed and testing began. Fifteen days later, the Spirit of St. Louis was declared ready to make the transatlantic flight.
Lindbergh left California late on the afternoon of May 10, planning to fly through the night to St. Louis. He completed the 1,500-mile flight in 14 hours and 25 minutes, a record for a nonstop flight of that distance.
After spending a day with his supporters, he continued on his way to New York. Lindbergh feared that if he lingered, someone else would beat him in the race for the Orteig Prize. Lindbergh's flight from St. Louis to New York took 7 hours and 22 minutes, for a combined cross country flight in less than 22 hours — breaking another record.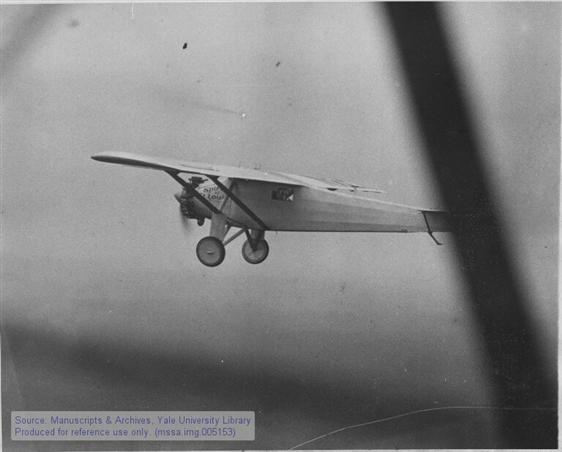 Charles A. Lindbergh in the Spirit of St. Louis shortly after taking off on his transatlantic flight. Photo courtesy Yale University Library.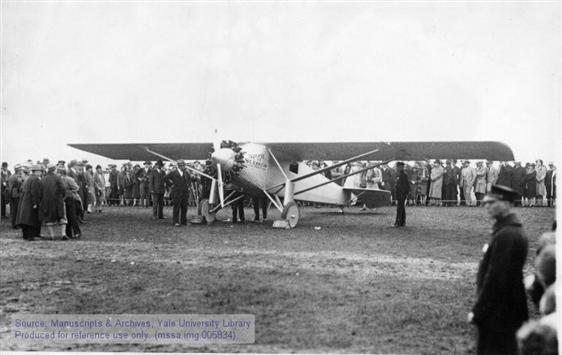 Charles A. Lindbergh in the Spirit of St. Louis just before takeoff from Roosevelt Field, NY. May 20, 1927. Photo courtesy Yale University Library.
Landing in Paris
Twenty-seven hours after leaving Roosevelt Field, Lindbergh saw signs of life indicating that he had indeed reached the other side of the Atlantic. Porpoises and fishing boats led him to Dingle Bay on the southwestern coast of Ireland. Despite the challenges, he was less than three miles off course.
News quickly spread across Europe and the United States that Lindbergh had been spotted over England. As Lindbergh continued on toward Paris, people began to gather at Le Bourget Aerodrome in anticipation of his arrival. Lindbergh expected the landing field to be pitch black since he was flying at night, but the large crowds came with lights, and a confused Lindbergh circled the airfield a few times before landing at 10:24 pm.
The flight took 33 hours and 30 minutes. In the book The Spirit of St. Louis, Lindbergh recalled, "I start to taxi back toward the floodlights and hangars ... But the entire field ahead is covered with running figures!" More than 150,000 people were rushing toward his plane.
The excited crowd carried Lindbergh on their shoulders before a quick-thinking Frenchmen placed Lindbergh's flight helmet on a nearby reporter, creating a distraction that allowed Lindbergh to escape to a nearby hangar where he was met by the American ambassador to France, Myron T. Herrick. The two drove through Paris and back to the ambassador's residence, where Lindbergh got some sleep after being awake for 63 hours.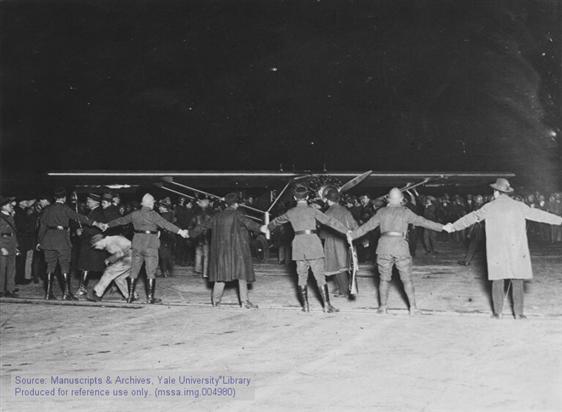 First photograph of Charles A. Lindbergh's Spirit of St. Louis after landing in Paris, May 21, 1927. Photo courtesy Yale University Library.
Resources
Berg, A. Scott. Lindbergh. New York: Berkley Books, 1998.
Lindbergh, Charles A. The Spirit of St. Louis. New York: Scribner, 1953.
Fife, George Buchanan. Lindbergh The Lone Eagle: His Life and Achievements. New York: A. L. Burt Company, 1927.
Jackson, Joe. Atlantic Fever: Lindbergh, His Competitors, and the Race to Cross the Atlantic. New York: Picador, 2012.
Kessner, Thomas. The Flight of the Century: Charles Lindbergh and the Rise of American Aviation. New York: Oxford University Press, 2010.
Lindbergh, Charles A. "We." New York: Grosset & Dunlap Publishers, 1927.
Miller, Francis Trevelyan. Lindbergh His Story in Pictures. New York: G. P. Putnam's Sons, 1929.