Before Charles Lindbergh did extraordinary things, he grew up as an ordinary boy on a farm in central Minnesota.
"Science, freedom, beauty, adventure: what more could you ask of life? Aviation combined all the elements I loved," Charles Lindbergh wrote in his book The Spirit of St. Louis.
His love of aviation, science, and the environment can all be directly linked to various experiences throughout his youth.
From the freedom to explore the surrounding woods and river as a child to traveling across the country by train and automobile, each adventure shaped the individual who would become one of the most famous men in the world.
Early childhood
Charles Augustus Lindbergh was born in Detroit, Michigan, on Feb 4, 1902. His mother, Evangeline, had gone to her hometown to give birth so she could be attended to by her uncle, a medical doctor. The infant Charles was brought home to Little Falls, to the grand home his parents had built on the banks of the Mississippi River on a 110-acre farm outside of town. The farm was also home to Charles's two half-sisters from his father's first marriage, Lillian and Eva, and three live-in staff.
The Lindberghs regularly entertained in their home, hosting families like the Weyerhaeusers and Mussers, owners of the Pine Tree Logging Company. But on Sunday, Aug 6, 1905, the home caught fire and burned to the ground. Lindbergh recalled:
"There was sudden shouting — women's voices. I was picked up quickly and taken across the road to a place behind the barn. Somehow I got to a corner of the barn and looked around it to see a huge column of smoke billowing skyward from a corner of our house. Then I was taken back and told I mustn't look."  (The Spirit of St. Louis, 1953)
The house was a total loss. While they never divorced, C.A. and Evangeline had been estranged, and from this point forward, they would live in separate homes.
Life at "camp"
After the fire, the Lindberghs built a smaller home on the same site. C.A., Charles's father, had won a seat in the US House of Representatives, and would be taking the family to live part of the year in Washington, D.C. Each fall the family would travel to Detroit, where they would spend a month visiting Evangeline's family, the Lands, before traveling on to the nation's capital. They would make the same trip back each spring.
Charles Lindbergh later remembered, "Through the long winters I counted the weeks and days until spring when we would return to our Minnesota farm," which the family often referred to as "camp." Lindbergh loved his time outside on the farm. He would often spend his days swimming in the river, climbing trees, interacting with the lumberjacks who brought logs down the river, and hunting with his father. He recalled many of his adventures in letters written to the Minnesota Historical Society and published in a book called Boyhood on the Upper Mississippi, republished in 2002 as Lindbergh Looks Back.
It was here in Little Falls that Lindbergh saw his first airplane. In The Spirit of St. Louis, Lindbergh recollected:
"One day I was playing upstairs in our house on the riverbank. The sound of a distant engine drifted in through an open window. ... Suddenly I sat up straight and listened. No automobile engine made that noise. It was approaching too fast. It was on the wrong side of the house! ... I ran to the window and climbed out onto the tarry roof. It was an airplane! Flying upriver below higher branches of trees, a biplane was less than two hundred yards away — a frail, complicated structure, with the pilot sitting out in front between struts and wires. I watched it fly quickly out of sight..."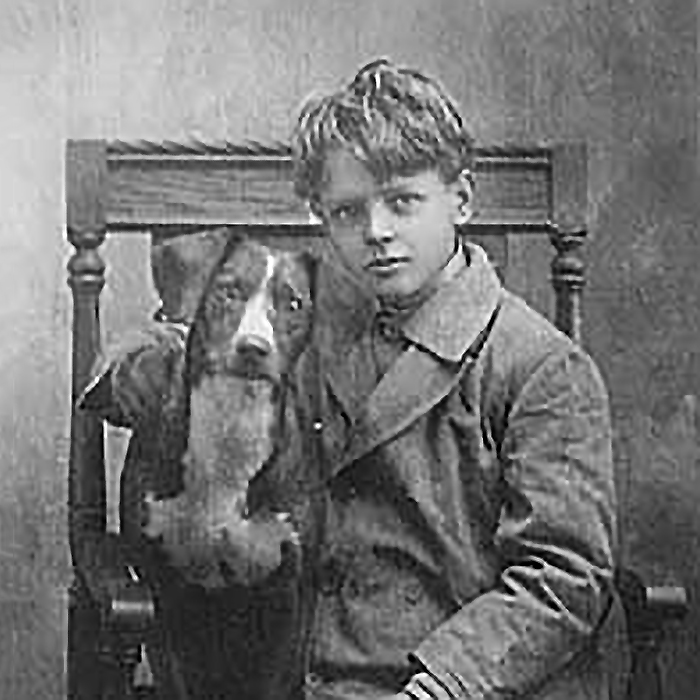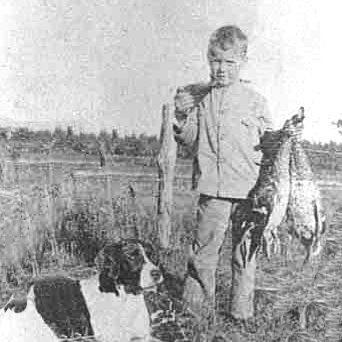 1916 Saxon Six
In 1916, Evangeline and Charles drove to California to visit Lillian, who had been diagnosed with tuberculosis. Evangeline did not have a good relationship with either of her stepchildren, but she took the trip to help make amends. In October they set off in the family's new Saxon Six automobile.
Joining them was Uncle Charles from Detroit and the family dog, Wahgoosh. With the Saxon reaching a top speed of just 25 miles per hour, it took 40 days to reach their destination. It also did not provide adequate protection in bad weather and could not handle rough road conditions. Evangeline and Charles spent the winter of 1916-17 in southern California.
In 1927, after Charles' famous flight, souvenir hunters stripped the car and took it through town for Lindbergh's homecoming parade with "Lindbergh's First Plane" painted on the side. In the late 1960s a maintenance battalion from Camp Ripley restored the Saxon to running condition.
The car is currently on display in the museum. Watch a video about the Saxon Six.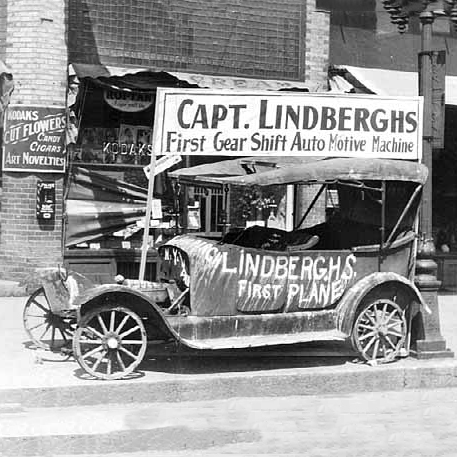 Farming for the war effort
Despite arguing against entering the Great War, when the United States joined the fighting in 1917, C.A. stepped up food production on the farm to help. Charles took over running the farm. He was a senior in high school, but in order to support the war effort, students were able to work on farms and still earn academic credit.
Charles kept Guernsey cattle, Duroc-Jersey hogs, Shropshire sheep, Leghorn chickens, and Toulouse geese. Charles also did maintenance work around the farm, building a suspension bridge over Pike Creek, repairing fences, and keeping the buildings in good standing.
In the evenings, Charles spent much of his free time reading. He read books, newspapers, magazines, and farm publications. He was fond of stories of adventure and aviation, particularly "Tam o' the Scoots," a 19-part magazine serial about a fictional Scottish pilot during the Great War. Lindbergh later recalled, "I think this story had considerable effect on my decision to enlist in the army when I was old enough and to become a fighter pilot myself."
Lindbergh joined the war effort but returned to the farm after the war ended. He farmed for two years before heading off to the University of Wisconsin in 1920. He attended college for three semesters then left to pursue a career in aviation. While Lindbergh returned to the farm for short visits over the next several years, he would never live in Little Falls again.
Berg, A. Scott. Lindbergh. New York: Berkley Books, 1998.
Charles A. Lindbergh and Family Papers. Minnesota Historical Society.
Eighmey, Rae Katherine. Food Will Win the War: Minnesota Crops, Cooks, and Conservation During World War I. St. Paul, MN: Minnesota Historical Society Press, 2010.
Lindbergh, Charles A. Lindbergh Looks Back. St. Paul, MN: Minnesota Historical Society Press, 2002.
Lindbergh, Charles A. The Spirit of St. Louis.  New York: Scribner, 1953.