Promoting Flight
In The Spirit of St. Louis, Lindbergh observed, "What a future aviation has when such planes can be built; yet how few people realize it! Businessmen think of aviation in terms of barnstorming, flying circuses, crashes, and high costs per flying hour. Somehow they must be made to understand the possibilities of flight."
He took advantage of his fame to promote the safety of aviation and to help the nation understand the possibilities.
Homecoming
Immediately after landing at Le Bourget, Charles Lindbergh became an international celebrity, with invitations pouring in for him to visit European countries. Lindbergh noted in a speech, "When I landed at Le Bourget, a few weeks ago, I landed with the expectancy, and the hope, of being able to see Europe. It was the first time I had ever been abroad, and I wasn't in any hurry to get back. And I was informed, that while it wasn't an order to come back home, that there'd be a battleship waiting for me next week."
After two weeks visiting France, Belgium, and England, Lindbergh boarded the USS Memphis to return to the United States. When Lindbergh arrived in Washington, D.C., more than 250,000 people were there to greet him.
President Calvin Coolidge awarded him the first Distinguished Flying Cross "as a symbol of appreciation for what he is and what he has done," before announcing Lindbergh's promotion to colonel in the United States Reserve Corps.
From the nation's capital, Lindbergh went to New York City, where he was again greeted by enormous crowds; everyone turned out for the chance to see the "Lone Eagle" in person.
In the meantime, the world had gone Lindbergh crazy. Poetry, biographies, and at least 200 songs were written by amateurs and professionals alike. Lindbergh also received marriage proposals, invitations to visit cities across the nation, and thousands of gifts, letters, and endorsement requests.
Charles A. Lindbergh and Grover Whalen, New York City ticker tape parade, Jun 13, 1927. Photo courtesy Yale University Library.
Guggenheim goodwill tour
Upon returning to the United States, Charles Lindbergh had many career opportunities laid out before him, but his focus remained steadfast: "Whatever does not mean help to aviation will not interest me at all."
The first big opportunity to promote aviation was given to Lindbergh by Harry Guggenheim, the son of a leading industrialist. Guggenheim headed a fund created "to promote aeronautical education throughout the country; to assist in the extension of aeronautical science; and to further the development of commercial aircraft, particularly in its use as a regular means of transportation of both goods and people."
Guggenheim conceived of a "goodwill tour" featuring Lindbergh and the Spirit of St. Louis as a way to fulfill the fund's mission. The Guggenheim Tour was announced on Jun 28, 1927. "It will enable millions of people who have had an opportunity only to read and hear about the colonel's remarkable achievement to see him and his plane in action," according to the press release.
The tour lived up to its promise. Lindbergh spent the next three months visiting 48 states and 82 cities, where it is estimated that one out of every four Americans had the chance to see him in person.
Before leaving on the tour, Lindbergh completed an account of his life and the New York-to-Paris flight in a book published in August 1927 as We, which immediately became a bestseller. The combination of the tour and the book's release created another enormous publicity storm.
See a complete list and map showing where Lindbergh traveled during his Guggenheim tour.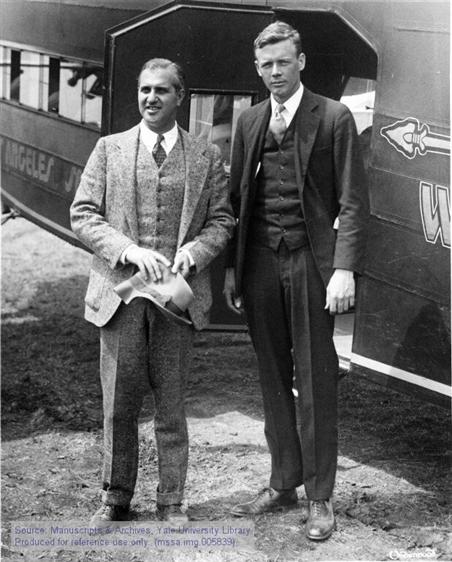 Charles A. Lindbergh with Harry Guggenheim, 1927. Photo courtesy Yale University Library.
Minnesota
During his goodwill tour, Lindbergh made two stops in Minnesota and several flyovers, including Winona and Red Wing, where he dropped printed tour messages that thanked the communities for their support.
As part of the tour, Lindbergh arrived at Wold Chamberlain Field at 2:03 pm on Tuesday, Aug 23, 1927. From the airport he joined a tour of the Twin Cities in a parade car with the mayors of Minneapolis and St. Paul, their wives, and his mother, Evangeline. The newspapers estimated that between 250,000 and 500,000 people attended the parade. Lindbergh's day ended with a banquet at the St. Paul Hotel, where Governor Christianson presented him with a commemorative medal from the state.
On Wednesday, Lindbergh visited with his mother, his half-sister Eva Lindbergh Christie, and other relatives who gathered to see him in the Twin Cities. The next day, Lindbergh headed north, making a detour to fly over Savage, Shakopee, St. Cloud, Melrose, and Sauk Centre, before arriving in his hometown of Little Falls.
For weeks, the Little Falls Homecoming Committee had made preparations for Lindbergh's visit. A local newspaper called the visit "more important than one from the president of the United States."
At 2 pm on Aug 25, Lindbergh landed the Spirit of St. Louis on Jacob Brutcher's 60-acre farm north of town to the greeting of thousands of visitors.
From the impromptu airfield, Lindbergh was ushered into town where 50,000 people had gathered for an elaborate parade that ended at the fairgrounds, where Lindbergh gave a speech about aviation. Festivities continued at the Elks Hotel and the next day Lindbergh visited his boyhood home before leaving Little Falls.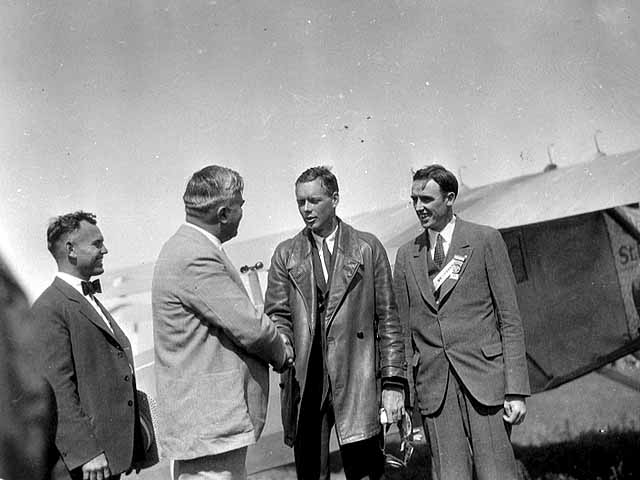 Charles A. Lindbergh homecoming, Little Falls.