Flying with Anne
Before Anne Spencer Morrow met Charles Lindbergh, she never dreamed of flying. Her world changed when her father, Dwight Morrow, then Ambassador to Mexico, entertained Lindbergh over the 1927 Christmas holiday at their home in Mexico City. Lindbergh was on another goodwill tour, this time to Latin America.
Anne's first flight
When Anne Morrow first met Charles Lindbergh in 1927, she was star-struck and tongue-tied, not knowing what to say to the famous young man who sat next to her at Christmas dinner. Unbeknownst to her at the time, Lindbergh appreciated the silence and for the first time was comfortable with a girl.
The next day, Lindbergh took the Morrow family for a ride in his five-passenger silver Ford plane. Anne described her experience in her journal:
"Con, Elisabeth, and I went forward to the front seats just in back of the Colonel and Captain W. (and separated from the rest of the car). Then we were happy — so terribly and ecstatically happy, alone and together and able to watch him. Suddenly I felt the real sensation of going up — a great lift, like a bird, like one's dreams of flying — we soared in layers. That lift that took your breath away — there it was again! I had real and intense consciousness of flying… He was so perfectly at home — all his movements mechanical. He sat easily and quietly, not rigidly, but relaxed, yet alert. One hand on the wheel — one hand! He has the most tremendous hands… It was a complete and intense experience. I will not be happy till it happens again."
Anne had fallen in love, both with the magic of flying and the handsome pilot who took them into the air.
Courtship and wedding
Lindbergh began visiting the Morrows at their home in Englewood, New Jersey, the next spring and by the fall of 1928, he asked Anne out on a date. Lindbergh once again took her flying.
They were engaged by November. In order to keep the press at bay, they kept their engagement a secret and resumed their separate lives, communicating through letters, discreet phone calls, and coded telegrams.
Anne's father announced their engagement in Feb 1929. The wedding details were kept a secret too, even from the guests. On May 27, 1929, the two were married in a quiet ceremony in the Morrows' backyard. Twenty guests were in attendance.
Anne gets her pilot's license
Anne accompanied Charles when he traveled for Transcontinental Air Transport. During this time Charles taught her to fly. On Aug 23, 1929, she made her first solo flight. She went on to be the first woman and the tenth American to earn a first-class glider pilot's license in addition to her private pilot's license.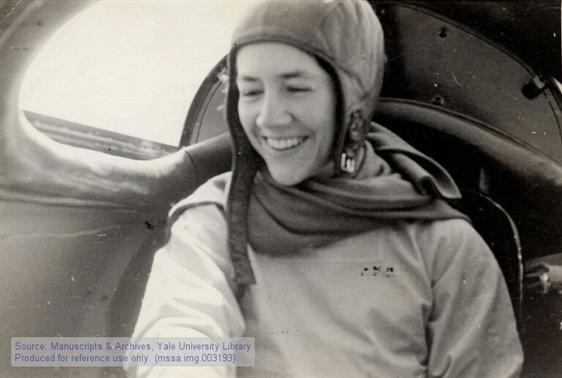 Anne Morrow Lindbergh in the Lockheed "Sirius" during the Atlantic Survey Flight. Photos courtesy of Yale University Library.
North to the Orient, 1931
In 1931, Charles and Anne flew to Japan by way of Canada and the northern Pacific Ocean. By this time, their first child, Charles Jr., had been born. The flight was conceived and paid for by Lindbergh, even though he was an official aviation consultant with Pan American. Lindbergh had his Lockheed Sirius modified into a seaplane and spent two months planning the flight. During the flight, Anne served as the navigator and radio operator.
Anne later wrote:
"I would have been content to stay home and do nothing else but care for my baby, but there were those survey flights that lured us into more adventures. I went on them proudly, taking my place as crew member. The beauty and mystery of flying never palled, and I was deeply involved in my job of operating radio."
The Lindberghs left from Long Island on Jul 27, 1931, and their adventure was documented almost daily in the papers.
On Oct 5, they received word that Anne's father, Dwight Morrow, had suffered a fatal cerebral hemorrhage. The Lindberghs returned home as quickly as possible, arranging to have their plane shipped because it had been damaged just prior to leaving. They took a ship to Los Angeles and flew the rest of the way commercially, arriving in New Jersey on Oct 23, 1931.
Anne Morrow Lindbergh published North to the Orient, her memoir of the trip, in 1935.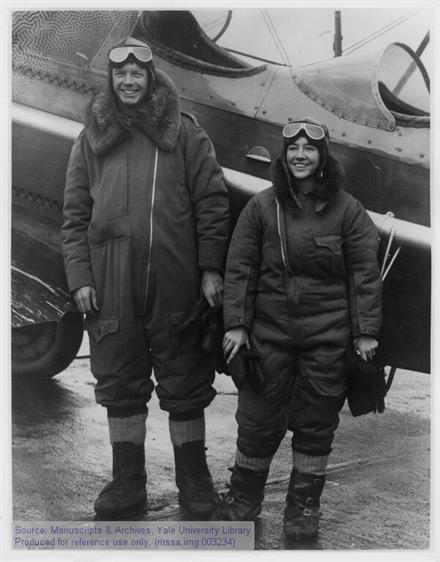 Charles A. Lindbergh and Anne Morrow Lindbergh in flight gear, 1931. Photos courtesy of Yale University Library.
Around the Atlantic, 1933
Charles Lindbergh began planning another trip in early 1933 (less than a year after the kidnapping and murder of their first child, Charles Jr.). Lindbergh noticed that:
"The countries had already been crossed and the continents connected. It remained only for the oceans to be spanned. Their great over-water distances constituted the last major barrier to the commerce of the air."
Lindbergh explored potential transatlantic air routes and bases between North America and Europe for Pan American, but once again he financed the venture himself. For a second time Lindbergh used his Lockheed Sirius, having altered the engine to increase the plane's range and carrying capacity.
The Lindberghs began this new journey on Jul 9, 1933, ending more than five months later on Dec 19, 1933. They had flown nearly 30,000 miles over four continents. In 1938, Anne published Listen! The Wind!, an account of their Atlantic survey.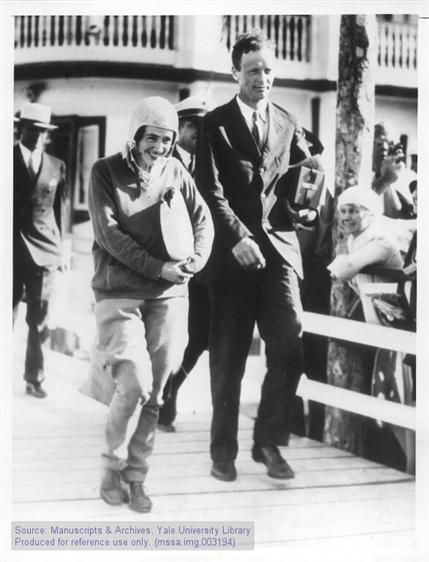 Charles A. and Anne Morrow Lindbergh return from Atlantic Survey Flight, Miami, Florida. Photos courtesy of Yale University Library.