About
The Minnesota Historical Society preserves and makes available a wide range of materials chronicling Minnesota's history and culture. The goals of the Collections Department are to collect and preserve; provide access and interpretation; and engage in education and outreach. This blog is a tool to share these stories and let people know what is happening in the department.
See Collections Up Close Blog Archive
 Subscribe in a reader
Life Insurance and Suicide

This letter was from the American Red Cross' National Headquarters and sent to all of its Division Directors of Civilian Relief. It concerns the government insurance policy of enlisted men, which usually gave relatives payments in case of a man's death. The War Risk Insurance Bureau decided that in the case of suicide, if the man was insane when he committed suicide the insurance would still be paid but if he was sane it was not payable; highlighting the stigma against mental illness during this time. But, in October this rule would change so that families receive insurance benefits whatever the mental state of the person who committed suicide.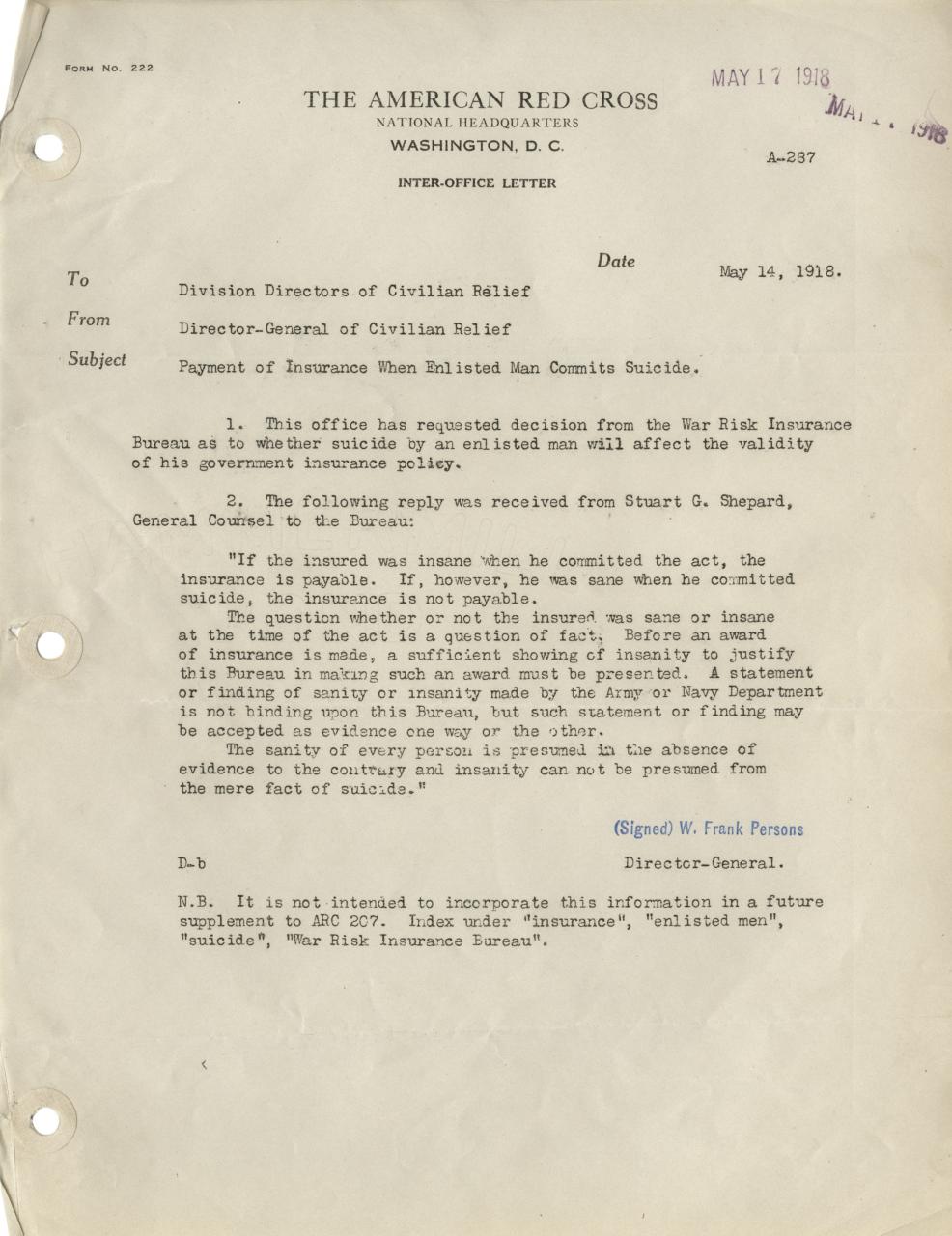 May 14, 1918.
[...] 1. This office has requested decision from the War Risk Bureau as to whether suicide by an enlisted man will affect the validity of his government insurance policy. [...] 'If the insured was insane when he committed the act, the insurance is payable. If, however, he was sane when he committed suicide, the insurance is not payable. The question whether or not the insured was sane or insane at the time of the act is a question of fact. Before an award of insurance is made, a sufficient showing of insanity to justify this Bureau in making such an award must be presented. A statement of finding of sanity or insanity made by the Army or Navy Department is not binding upon this Bureau, but such statement or finding may be accepted as evidence one way or the other. The sanity of every person is presumed in the absence of evidence to the contrary and insanity can not be presumed from the mere fact of suicide." [...]
 
Citation: American Red Cross, Northern Division, records, 1915-1921. Minnesota Historical Society, St. Paul, Minnesota. P781