The Minnesota Historical Society holds the largest single collection of Minnesota newspapers, with publication dates ranging from 1849 to the present day.
Here's a list of current and future online collections and resources.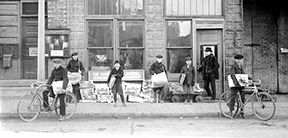 The Minnesota Digital Newspaper Hub is a searchable website from the Minnesota Historical Society that makes hundreds of thousands of pages of Minnesota newspapers available online. The Hub contains geographically and culturally diverse newspapers published between 1856 and today. Due to copyright law, newspapers published after 1922 can only be accessed from the Gale Family Library at the Minnesota History Center. Explore the Newspaper Hub.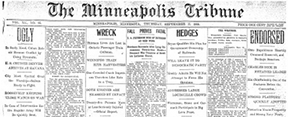 Free online access to the Historical Minneapolis Tribune (1867-1922) is now available through a new platform provided by the Minnesota Historical Society in partnership with Minnesota State Library Services. These digital newspapers were previously available through the subscription site ProQuest. Minnesota State Library Services' contract with ProQuest expired in 2014 and the digital newspaper pages were transferred to the Minnesota Historical Society, which oversaw transformation of the pages into a format compatible with a new newspaper access system. Users will notice differences between the old and new systems. For instance, ProQuest allowed users to access individual newspaper articles; now the newspapers are accessible in whole pages.
Funding for digitization and access to the newspapers was provided by the Minnesota Department of Education through a Library Services and Technology Act grant from the Institute of Museum and Library Services.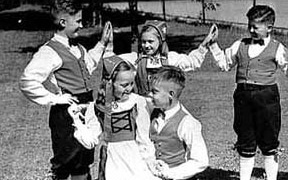 Swedish American Newspapers — Coming Fall 2016
The Swedish American Newspaper Project is a multi-year collaborative project to digitize and make available online Swedish-language newspapers published in the United States. Over 300,000 pages of Swedish American newspapers have already been digitized, and at the project's end will be available through a bi-lingual website that will also provide search, text correction, and annotation tools, in addition to being a rich resource for scholarly research on Swedish American history.
The Swedish American Newspaper Project is a collaboration between the Minnesota Historical Society, the National Library of Sweden, the American Swedish Institute, and the Swenson Swedish Immigration Research Center at Augustana College, Rock Island, Illinois and is funded by the Marcus and Marianne Wallenberg Foundation, the Riksbankens Jubileumsfond, and the Barbro Osher Pro Suecia Foundation.

In 2007, 2009, 2011, and 2015 the Minnesota Historical Society received two-year grants from the National Endowment for the Humanities (NEH) to participate in the National Digital Newspaper Program (NDNP). This program is a partnership between the NEH and the Library of Congress to build a national digital resource of newspapers published between 1836 and 1922.
Learn more about the NDNP.
Find out more about newspapers at the Minnesota Historical Society, including those which have not yet been digitized.
Historical American newspaper pages from 1836-1922 can be found at the Library of Congress' Chronicling America site.