Volunteers are essential to the Minnesota Historical Society. It's our goal to make volunteering as enjoyable for you as it is valuable for us.
Nearly 2,000 volunteers contribute to the work of our mission everyday. If you have enthusiasm, good customer service skills, enjoy history and exploring cultural organizational environments and are a lifelong learner, then volunteering at MNHS may be for you.
We seek volunteers from diverse backgrounds to help tell the story of all Minnesotans. From greeting visitors and school groups to working behind the scenes working on shipwreck records or scanning photos, every volunteer brings meaning to the work that they do.
Make Music History!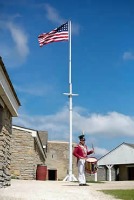 The Historic Fort Snelling Fifes and Drums are looking to expand upon the success of the corps' revival in 2014. Students 14 years of age and older are encouraged to join the ranks of this unique musical ensemble.
Learn period duty calls and military music
Depict one of the earliest military musical units in the state
Share music history with Historic Fort Snelling visitors
Perform at historic sites and in area parades
Serve as a musical ambassador for the Minnesota Historical Society and the State of Minnesota.
More information on the Historic Fort Snelling Fifes and Drums
Accepting Volunteers for Fall Project
Do you ever long for the days when you spent an entire afternoon as a kid playing with toys? Favorites like Mr. Potato Head, Slinky and Barbie? The new Toys of the '50s, '60s and '70s exhibit offers visitors the chance to reminisce and play with toys from the past. 
Volunteer by conducting surveys for the Toys exhibit. Looking for outgoing personalities and confident individuals who can talk with new people. This is a great way to engage with visitors and to learn about the Toys exhibit! These surveys will help determine future exhibit activities and topics. 
Weekend and weekday shifts are available. Commitment is four shifts per month during October and November. Training provided. Apply Here