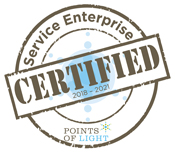 Volunteers are essential to the Minnesota Historical Society.
It's our goal to make volunteering as enjoyable for you as it is valuable for us. 
More than 2,000 volunteers contribute to the work of our mission. If you have enthusiasm, good customer service skills, enjoy history and exploring cultural organizational environments and are a lifelong learner, then volunteering at MNHS may be for you.
We seek volunteers from diverse backgrounds to help tell the story of all Minnesotans. From greeting visitors and school groups to working behind the scenes on historical records or scanning photos, every volunteer brings meaning to the work that they do.
We currently have a waitlist for many of our volunteer opportunities. At this time, we are only accepting applications for:
First Avenue Museum Assistant on Fridays from 9:45am-2:00pm
Data Squad Volunteer
School Programs Greeter at the Oliver Kelley Farm
School Programs Greeter at the Minnesota History Center
For more information, visit our volunteer opportunities page!