Volunteers are essential to the Minnesota Historical Society.
It's our goal to make volunteering as enjoyable for you as it is valuable for us.
Nearly 2,000 volunteers contribute to the work of our mission everyday. If you have enthusiasm, good customer service skills, enjoy history and exploring cultural organizational environments and are a lifelong learner, then volunteering at MNHS may be for you.
We seek volunteers from diverse backgrounds to help tell the story of all Minnesotans. From greeting visitors and school groups to working behind the scenes working on shipwreck records or scanning photos, every volunteer brings meaning to the work that they do.
Make Music History!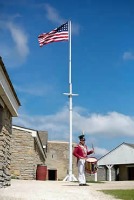 The Historic Fort Snelling Fifes and Drums are looking to expand upon the success of the corps' revival in 2014. Students 14 years of age and older are encouraged to join the ranks of this unique musical ensemble.
Learn period duty calls and military music
Depict one of the earliest military musical units in the state
Share music history with Historic Fort Snelling visitors
Perform at historic sites and in area parades
Serve as a musical ambassador for the Minnesota Historical Society and the State of Minnesota.
More information on the Historic Fort Snelling Fifes and Drums
Accepting Volunteers for Baking Lab at Mill City Museum
Do you have a passion for baking as well as for history? Apply to be a Baking Lab Assistant at the Mill City Museum! You will get to experiment with recipes, learn about food sources, help guest bakers and staff by mixing batter and kneading dough, and interact with visitors and students.
Current openings are on Thursdays and Fridays, 9:45 a.m. to 2:00 p.m., two times a month, with a minimum one year commitment. If that sounds like fun to you, put on an apron, roll up your sleeves and apply here!