About
The Minnesota Historical Society preserves and makes available a wide range of materials chronicling Minnesota's history and culture. The goals of the Collections Department are to collect and preserve; provide access and interpretation; and engage in education and outreach. This blog is a tool to share these stories and let people know what is happening in the department.
See Collections Up Close Blog Archive
 Subscribe in a reader
Occupational Therapy Nurses Wanted

This letter was sent to all the Division Directors of Civilian Relief for the American Red Cross, regarding the need for Reconstruction Aides who would provide occupational therapy for disabled soldiers in hospitals. The Red Cross was looking for women from 25 to 40 years old, 60 to 70 inches tall, and 100 to 195 pounds. These women had to be US citizens, and should have knowledge in basketry, weaving, simple wood carving, block printing, knitting, needle work, and drawing skills.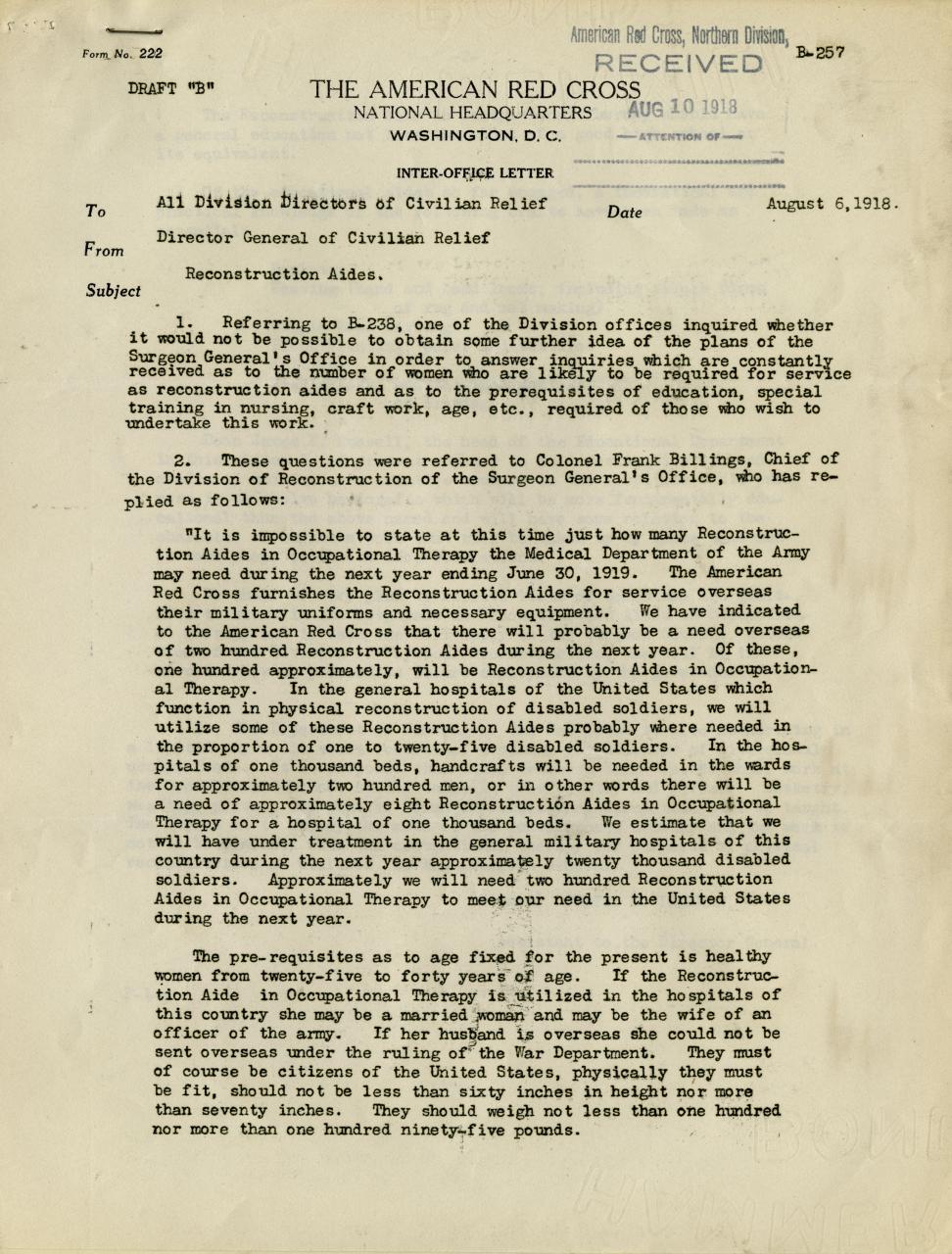 August 6, 1918.
[...] It is impossible to state at this time just how many Reconstruction Aides in Occupational Therapy the Medical Department of the Army may need during the next year ending June 30, 1919. [...] We have indicated to the American Red Cross that there will probably be a need overseas of two hundred Reconstruction Aides during the next year. [...] The pre-requisites as to age fixed for the present is healthy women from twenty-five to forty years of age. If the Reconstruction Aide in Occupational Therapy is utilized in the hospitals of this country she may be a married woman and may be the wife of an overseas officer of the army. If her husband is overseas she could not be sent overseas under the ruling of the War Department. They must of course be citizens of the United States, physically they must be fit, should not be less than sixty inches in height nor more than seventy inches. They should weigh not less than one hundred nor more than one hundred ninety-five pounds.

Citation: American Red Cross, Northern Division, records, 1915-1921. Minnesota Historical Society, St. Paul, Minnesota. P781